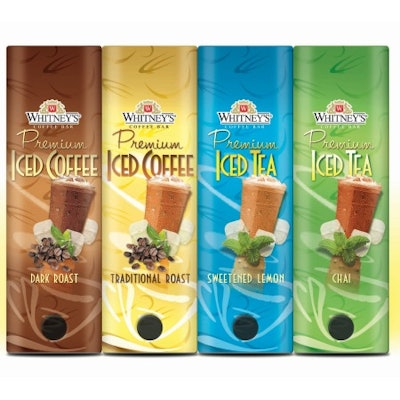 Whitney's premium iced coffees and teas available through Steuben Foods, Jamaica, NY, will be distributed in 2 1/2-gal bag-in-box Multiserve SafePak™ aseptic packages with advanced dispensing. Provided exclusively by
International Dispensing Corp.
, the innovative technology allows product to be dispensed safely and efficiently without refrigeration or preservatives—even after opening.
"There is tremendous market demand for high-quality iced coffees and teas that can be safely and efficiently served to consumers," says Ken Schlossberg, president of Steuben Foods. "The rich, consistent flavor of Whitney's premium iced coffees and teas will help convenience stores and restaurants drive sales, build repeat business, and establish brand loyalty. Because of our ground-breaking package, there is no capital barrier to entry, no machine breakdowns, and no maintenance issues, making it an ideal, no-hassle solution for foodservice operators."
Whitney's iced coffees and teas come fresh and ready-to-drink, and are easy to dispense over ice with a simple push of a button; no mixing or stirring are required. The Multiserve SafePak's user-friendly dispensing improves service and efficiency in foodservice environments; its closed system reduces spills and other unsafe scenarios.
Although ostensibly the SafePak is a bag-in-box system, Jeff Sokal, Steuben's director of business development, declines to refer to it as such because he sees it as much more than a conventional BIB: "By making the distinction to call it the Multiserve SafePak, we're attempting to put this in a different category."
Typically, these kinds of foodservice products require refrigeration after opening, or their own power supply.
As a result, Sokal calls the system's Answer™ tap the major selling point for the package, and one that can be easily recognized for its value. "Customers can avoid the maintenance, cleaning, water, and power needed for many competitive foodservice systems."
The package has a six-month unopened shelf life. The company is recommending that the product be used within seven days of opening, though Sokal says that tests show it lasts a lot longer. A container will hold roughly 30 servings, he estimates.
Additionally, the tall, narrow-footprint design takes up little counter space compared with a cube container. The tap is provided with double tamper-evidence: a small laminate seal over the spout, and a TE ring over the dispensing button.
Packaging is to be done at the company's production facility in Elma, NY, outside Buffalo. Irradiated bags with the Answer tap attached will be filled at a rate of about 5 bags/min on a
Scholle Corp.
10-2LA aseptic filler. The box portion, from
Sonoco Products Co.
, is a Dorpak® container made from recycled paperboard. According to Sonoco, the recycled content of the Dorpak box can be as high as 90%, all of which is post-consumer material, depending on the container.
Sokal says the first customer is a national quick-serve restaurant chain that he cannot identify at this time. The expected launch time frame is in Q1 2008.
Companies in this article