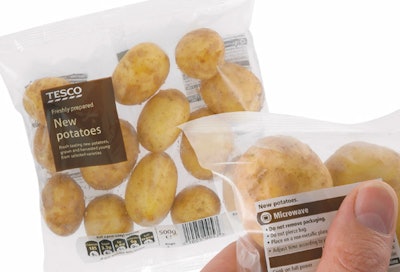 That quote, from a SIG Combibloc press release, captures in six brief words precisely where food and beverage packaging is today and will remain for the foreseeable future.
Sustainability, undoubtedly the biggest buzz of 2007, is driving the excess from packaging, including excessive materials, excessive energy use, and excessive waste. The challenge for brand owners and package manufacturers moving forward will be to meet the primary goals of product packaging, including product protection and shelf impact, while finding materials and technologies that can lessen packaging's environmental impact.
On the consumer front, the obesity epidemic—66.3% of adults aged 20 and over are overweight or obese, according to the U.S. Department of Health & Human Services—and the aging baby boomer population compel consumer packaged goods (CPG) companies to trim their products of excess calories, excess fat, and excess sugar.
Consumers are seeking easier, more healthful, and fresher food options for consumption at home and on-the-go. "Americans are trying to be healthier, at the same time as wanting convenience," confirms a recent study from market analyst Mintel (www.mintel.com). The report, "Functional Beverages—U.S.," adds that overall, the number of people in the U.S. trying to eat with health goals in mind increased by 30 million between 2002 and 2006.
What this means for packaging is a growing need for packaging materials and formats that ensure product freshness and protect nutrients yet still extend product shelf life and deliver consumer convenience.
Here's a look, by no means comprehensive, at some of the trends emerging in food and beverage packaging that address either sustainability or health-conscious food options.
Sustainability tops trends
While many CPG companies have, for years, taken an active interest in the impact of their products and packaging on the environment, with Wal-Mart Store, Inc.'s late 2006 announcement of its Packaging Scorecard, these voluntary environmental efforts became a driving business imperative in 2007. "I think the question of sustainability frankly started with brand owners," relates Anne Johnson, director of the Sustainable Packaging Coalition. "Wal-Mart has brought the conversation to a much broader part of the supply chain.
"I think it's pretty clear that awareness in general has been raised across the industry. What you see now are brand owners becoming engaged in really understanding what opportunities are out there for them, benchmarking their current performance, and looking for opportunities to do better."
So far, this process has involved everything from light-weighting packaging to using alternative, non-petroleum-based materials to maximizing a product's supply-chain logistics in order to reduce fuel consumption.
One innovation from 2006 that has led to other, similarly focused product introductions, was Unilever's launch of All Small & Mighty, a 3x concentrated laundry detergent that reduced the product's package size from 100 oz to 32 oz (see www.packworld.com/view-20922). In October, household cleaning products company Wonder Tablitz Corp. took this idea one step further, completely eliminating the liquid product and instead supplying an empty, 32-oz bottle, along with three concentrated tablets that dissolve in water (see www.packworld.com/view-24121).
The success of products such as these have led Wal-Mart to declare that by May 2008, it will sell only concentrated detergent in all of its U.S. stores. "The commitment will save more than 400 million gallons of water, more than 95 million pounds of plastic resin, and more than 125 million pounds of cardboard," the company reports.
Johnson says that minimization efforts are a positive step. But they do not go far enough. "As long as you are using fossil fuel-based materials, and as long as you are in a transportation system driven by fossil fuel, there is only so far you can go toward sustainability, but you are not going to get there."
That's why some companies have turned to emerging materials technologies, such as bioplastics, to eliminate the need for petroleum-based products. While this trend began with smaller, entrepreneurial companies, it is now becoming a viable option for some of the world's largest CPG companies. For example, Kraft Food, Inc., announced at September's Biodegradable Plastics in Packaging Applications conference that it is looking for biomaterials that can meet its food packaging requirements. "We are seeing the demand for biobased materials growing quite strongly," noted Jay Edwards, head of sustainable packaging for Kraft. At present, Kraft's research shows that with most bioplastics, the major hurdles are functionality and price. To this argument, alternative materials suppliers are continuously innovating to enhance functional properties and cut costs.
Sustainable packaging opportunities also exist through the use of traditional packaging materials—glass, aluminum, paperboard, and plastic—in new and creative ways, driving new packaging solutions in 2008. "I think we are going to see a lot of really interesting introductions in the coming year," predicts Johnson. "I believe you will see a lot of collaboration. By looking at the supply chain and working with other companies, people will begin thinking in new and creative ways."
One word: Plastics
In forecasting the trends shaping the food container market, the largest growth is anticipated for plastics, including rigid containers, film bags, and pouches. That's according to "Food Containers: Rigid & Flexible to 2011," from The Freedonia Group, Inc. "Plastic food container demand is projected to climb 6.3 percent yearly to $4.5 billion in 2011, attributable to performance advantages such as high barrier properties resulting from advances in resin and processing technologies," the report states. "Moderating further rigid plastic inroads will be competition from flexible pouches.
"Cost and performance advantages will drive opportunities for bags and pouches, for which demand is expected to rise 4.4 percent annually to almost $10 billion in 2011. Growth will be driven by robust gains for stand-up pouches based on their excellent visual appeal, product differentiation, convenience, portability, reclosability, and freshness protection."
Not surprisingly, given consumers' clamor for healthful foods, the report adds that the greatest developments will be in plastic packaging for salads and other ready-to-eat and ready-to-cook fresh produce.
Just look at all the fresh, ready-to-cook produce items packaged in film bags using technologies that allow them to be prepared in the microwave. In July, U.K. retailer Tesco and its potato supplier, Greenvale AP Plc, introduced Tesco New Potatoes in a patent-pending steam-venting system developed especially for microwaving fresh produce. The Amcor SelfVent VFFS (vertical form/fill/seal) system allows the bag to be placed directly into the microwave without the need to pierce or tear the pack. This reduces cooking time by 70% and retains more vitamins versus boiling the potatoes in water, Amcor says.
The pack is made from a 30-micron recyclable oriented polypropylene film, with a special disruptor system applied in-register to the pack during printing. The system is said to control the venting of the pack when pressure builds up during cooking. Product shelf life is optimized through the use of Amcor's P-Plus MAP technology.
Plastic makes meals easier

Shelf-stable and refrigerated meal and snack options are also on the rise in plastic packaging that provides portability and ease of preparation.
According to "Lunchtime Eating," a study published by Mintel in August, "health and nutrition will continue to grow in importance for lunch options." Noting that 60% of consumers say they eat their lunch at their desks, Mintel adds that "convenience is also a crucial issue when choosing lunch items."
Tying into this desire for time-saving food-preparation options, another recent study shows that the microwave market is heating up. In "Microwavable Packaging," Allied Development Corp. reports that the North American microwavable packaging market will reach nearly 19 billion packages by 2011, growing at a rate of 11.6% per year (see www.packworld.com/view-23413).
One new microwavable lunch option is Kraft Foods' Oscar Mayer Deli Creations refrigerated, MAP-packed sandwiches in Graphic Packaging Intl.'s QuiltWave™ microwave receptor trays, introduced early this year (see www.packworld.com/view-23402). Created to deliver restaurant-quality, hot sandwiches in 60 seconds, each Deli Creations product includes all the fixings for a hearty sandwich, including individually wrapped meat, bread, and cheese, plus pouched condiments. The components are grouped on the QuiltWave tray and are packed in a paperboard carton for marketing from the refrigerator case.
Another recent introduction, Hormel Compleats, from Hormel Foods, was also developed to "cater specifically to busy workers looking for convenient, quick, and satisfying meal options," says Brett Asay, Hormel Compleats product manager. The meals replace the company's Microwave Trays line of frozen, microwavable meals and include 21 varieties in a shelf-stable, microwavable polypropylene tray with a film lid, marketed in a paperboard sleeve.
The biggest change to the product, its shelf stability, is provided by proprietary technology from Hormel. "You can toss one in your bag, store one in your desk, or keep a stock in your pantry, and you don't have to worry about keeping them frozen," notes Asay.
As suggested by the name, each variety comprises a full meal, with chicken, beef, turkey, or tuna, as well as vegetables and/or grains such as pasta, potatoes, or rice that can be prepared in the microwave in 90 seconds. Among the hearty varieties are Beef Steak Tips, Chicken Breast & Dressing, Swedish Meatballs, and Tuna Cassarole, among others.
On the lighter side, also enabling quick meal preparation, is a new line of Hillshire Farm-branded products introduced by Sara Lee Food & Beverage last April. The portable line of four Entrée Salads feature all of the ingredients needed to make a "restaurant-style entrée salad," the company claims, with the exception of lettuce.
The Entrée Salads in four meat-based varieties include individually bagged components that are stored in a reclosable, 5.25-oz PET container and are said to yield one to two servings.
Aseptics break new ground
While Freedonia's container study indicates that paperboard packaging will not grow with the same gusto as plastic, it does point out that there are areas of opportunity for this material. "The relatively small aseptic carton segment will log rapid gains based on expanding applications and greater consumer interest in natural or minimally processed foods," the study notes.
Not only is the aseptic process said to better protect the nutrients in food and beverages due to its short heating time, meeting the consumer trend toward healthful eating, but it also boasts sustainability advantages due to its material composition and its elimination of cold-chain distribution.
"Sustainability is now playing an increasingly significant role in business, much more so than even five or ten years ago," says Suleyman Muratoglu, aseptic dairy manager for Tetra Pak. "Not only are people concerned with sustainability as it relates to protecting the environment, they are also viewing it from a perspective of making better business. Recently, as several big retailers and food chains have taken the lead, the industry is seeing a growing interest for aseptic cartons from major food companies across the board."
Expanding beyond traditional, boxed-juice applications, aseptic packaging is now being used for products as varied as soups, smoothies, pudding, broth, sauces, olive oil, and even wine. In August, Tetra Pak announced that Lathrop, CA-based food processor and packager California Natural Products (CNP) had introduced the first 1-L Tetra Prisma® aseptic package filling line in the United States. Among CNP's customers is Three Thieves, a pioneering wine company that has added the 1-L Prisma to its line of aseptic packaging for its Bandit brand of Pinot Grigio, Cabernet Sauvignon, Merlot, and White Zinfandel. The Bandit brand is also sold in 1-L Tetra Brik® rectangular cartons and in 4-packs of 250-mL Tetra Prisma octagonal cartons (see www.packworld.com/view-22690).
Low-acid aseptic in PET still in infancy
In the realm of aseptically processed, low-acid beverages in PET bottles, in June, Barry Goldberg, president of TAPPA Group Intl., reported in Packaging World that "after many years, the flood gates are about ready to be opened..." (see www.packworld.com/view-23416).
At that time, the industry was poised for news from the U.S. Food & Drug Administration on the validation of a Procomac paracetic acid aseptic filling line at Aseptic Solutions USA in Corona, CA. As of November, Goldberg shares, "Procomac, Aseptic Solutions, and the FDA have been completely secretive about the process. No one knows where it's at right now."
While two facilities in the U.S. are validated for aseptic filling of low-acid aseptic beverages in PET using hydrogen peroxide to sterilize the bottles, the high cost of the process has kept applications to a minimum. Goldberg thinks that the use of paracetic acid could open up more opportunities at less cost.
Advantages of low-acid aseptic beverages—coffee drinks, unsweetened green tea, flavored milk drinks, and others—in PET include a lighter-weight package than glass, reclosablilty, and recyclability, to name a few. "It's the reclosable, 500-mL size that is the big market," Goldberg notes.
He adds that further proof of the potential of the low-acid aseptic PET market is Nestlé's investment of more than a quarter-billion dollars in five Procomac lines—one of which was installed in June—for its Anderson, IN, plant. "The reason they made this investment is due to the savings that they will realize by being able to ship shelf-stable beverages," he explains. The industry is also mum on the status of the FDA validation of Nestlé's line.
Cans court convenience
While the more mature metal and glass food-container segments are "expected to continue to lose ground to plastic containers, bags, and pouches," according to Freedonia's food container study, each of these areas also boasts its own notable innovations. Many have been devised and enhanced to capitalize on market trends towards convenience, health and wellness, and sustainability. Others add that extra bit of differentiation sought by brand owners to provide greater shelf impact.
In the area of canned food and beverages, package manufacturers court convenience through the use of reclosable beverage cans and the introduction of microwavable containers.
First introduced in the United States in 2003, the aptly named "bottle can," both with reclosable and twist-crown closures, continues to make inroads into beverage applications, including beer, ready-to-drink (RTD) teas and coffees, carbonated drinks, juices, and others. One of the latest applications is from Coca-Cola North America and Caribou Coffee, for a premium, RTD iced coffee line in three varieties. The brand employs a 12-oz reclosable, shaped Alumi-Tek™ aluminum bottle from Ball Corp., which the company introduced in 2006.
Noted Michael D. Herdman, Ball's president, Metal Beverage Packaging Division, upon the Alumi-Tek launch, "This is a distinctive new package that adds the convenience of reclosability to the list of well-known aluminum can attributes, such as superior shelf life, tamper-resistance, the ability to chill quickly, and recyclability."
Other 2007 applications displaying the novelty of the bottle-can format include a 14-oz version from CCL Container for a first-of-its-kind drink, Fever Beverage USA's Fever "stimulation" beverage (see www.packworld.com/view-22668), said to enhance virility and the libido. Barry Edelstein, president and chief operating officer for Fever Beverage, says, "We wanted a package that would also be unique, project a premium image for our alternative beverage, and help keep the beverage cold longer. The aluminum bottle really fit the bill because it has a brushed steel look with high-end graphics."
Microwave options for cans
In the area of microwavable packaging solutions, can manufacturers are gearing up to capture some of the growing market. Two solutions currently available include the Fusion-Tek™ microwavable steel can from Ball Corp., introduced in late 2006, and a just-launched container from canmaker Impress, in collaboration with design house Alpha Centauri and steelmaker ArcelorMittal .
Ball's Fusion-Tek uses a proprietary technology consisting of a steel food can with a plastic end that enables the microwave energy to pass through the can. Though no commercial applications have hit the shelf yet, Jennifer Hoover, manager, marketing communications for Ball Packaging Products, Americas, says that Ball's pilot production line has been running for many months and has produced several successful line trials.
The Impress offering has been developed using Creasteel® high-draw steel, which enables the creation of novel shapes. According to Impress, the new containers have been optimized for microwavability by using a shallow design with a large, open surface area. Two concept containers include a direct heat-seal 650-mL triangular shape and a 450-mL, round design, closed either by a direct heat seal or an Impress 153-mm-dia Easy Peel® end for retortable packages.
In tests carried out by Impress in France, Germany, and the United Kingdom, "consumers showed a high level of acceptance to using metal in a microwave oven," reports the company. "The new designs can be used to support new recipes or new product ranges in heat-processed ready meals and could even be used as a point of differentiation for chilled products," says Richard Moore, vp strategic development, Impress.
Shapes and colors catch the eye
For brand enhancement and shelf impact, new can innovations gaining momentum include shaped cans, manufactured using a range of technologies, and colored aluminum. This is according to Silgan Containers Corp., which gave a presentation at The Conference at Pack Expo Las Vegas titled "Shapely Metal Containers: Passing Fad or Emerging Future?"
"Given the trends abroad, where we've seen many successful introductions of metal shapes and colors, our prediction is that U.S. applications will follow suit," says Carolyn Takata, director of marketing, Silgan Containers. "Technologies have evolved in recent years that have enabled shaped can production efficiencies and quality—in both aluminum and steel—to compare favorably with traditional metal. Innovative, shapely designs that support brand positioning, coupled with a complementary color pallet, help contemporize metal packages and the products they contain."
One striking example of a shaped can is the new, 5-oz aerosol for PAM Professional High Heat no-stick cooking spray from ConAgra Foods, Inc., launched in October. The sleek, three-piece, 202/700 steel can represents the first commercial use of Ball Corp.'s Aergo™ proprietary blow-molding shaping technology, which expands can walls up to 30% beyond conventional, straight-walled diameter cans in sizes up to 211/804. The custom-shaped PAM can employs ergonomic contours and duplicates the look of brushed, stainless steel, replicating the look of modern kitchen appliances.
A relatively new development, colored aluminum cans and tabs have been spotted for several food applications, including one for felines: the Fancy Feast Elegant Medleys line of gourmet cat foods in eye-catching, pastel green cans. According to Heidi Slocumb, former marketing manager at Silgan, the can was introduced about a year ago and has delivered exceptional sales to Purina at a "premium price point."
The latest example of color use with a steel can is for Hormel Food Corp.'s 14-SKU Chili line, which recently converted from sanitary ends to Quick Top® full-panel, easy-opening ends from Silgan for its 15-oz cans. According to the can manufacturer, Hormel is the first in the chili category, and one of only a few food products, to use a colored pull-tab to create differentiation and convenience.
The chili can now uses a 300-dia, gold-colored EZO steel end accented by a red tab. The colors support Hormel Chili's red and yellow brand equity conveyed by the label.
"Putting an EZO end on a package tends to be perceived by consumers as more modern by today's standards," says Bob Pepper, group product manager, Hormel brand. "That works in concert with our goal to have Hormel Chili be viewed as a relevant, convenient, and contemporary product. We also started to think about the brand's color equity, and that's when we started exploring end and tab alternatives."
Although the varieties have just recently reached retail shelves, Hormel Foods says it has already received positive consumer feedback. "In terms of sales lift, our top-line numbers are already showing improvement compared to a year ago," Pepper says.
Glass conveys prestige, purity
In the next two years, glass is expected to show a "meager" growth rate, with sales of $319 billion units worth $36.5 billion expected by 2010, relates a report released in July, "Glass Packaging A Global Strategic Business Report," from Global Industry Analysts, Inc..
Currently, glass is a prime packaging choice for products thirsting to project a premium, high-quality image, such as spirits, wine, and craft beer. Examples of this were prevalent among this year's winners of the Glass Packaging Institute's Clear Choice Awards, especially the winner of the overall package design award (see www.packworld.com/view-23592). The package, a signature-embossed glass bottle for Gentleman Jack Rare Tennessee Whiskey from Brown-Forman Corp., features distinctive broad, curved shoulders, designed to communicate both the smoothness of the whiskey flavor and the strength of the brand's history.
Glass also tells an appealing sustainability story. "Glass is 100% recyclable," reads a recent publication, "Consumers Choose Glass," from GPI. "Using recycled glass, called cullet, in the manufacturing process saves raw materials, lessens the demand for energy, and cuts air emissions."
This message is providing opportunities for glass in areas such as organics and all-natural foods, which are growing in popularity, Joe Cattaneo, GPI president, tells PW. "Consumer preferences for healthy packaging, organics, and sustainability led many consumers to turn to glass in 2007 because of its inert characteristics and its ability to maintain the purity and taste of products," he says. "As environmental friendliness, sustainability, organics, and healthy packaging are projected to remain at the forefront of importance for the packaging industry in 2008, the outlook for the glass container market continues to look promising."
Companies in this article
Videos from Graphic Packaging Intl.