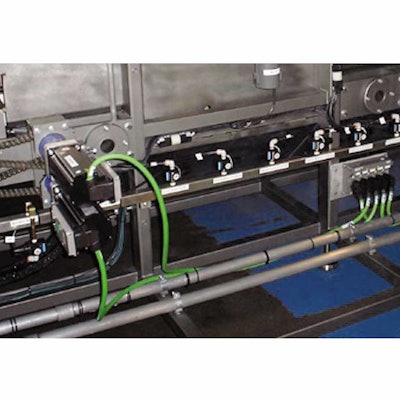 "With this new technology, there's no need for drives to be installed in the controls cabinet, so we deliver a machine with a controls cabinet about 50% smaller than before."
That's how Zoran Momich, president of Z Automation Company (ZAC) (www.zautomation.com), sums up one of the benefits gained by selecting PacDrive from Elau (www.elau.com) as the automation platform in ZAC's new CH-7.5-250C horizontal cartoning machine. The reason the controls cabinet contains no drives is because both servo drive and servo motor are integrated in a single Elau unit. These integrated motor/drive units are installed wherever an axis of motion is required. With drive and motor integrated in this fashion, ZAC not only cuts down on the size of its controls cabinet. It also simplifies wiring connections and shortens installation time. And with 10 axes of servo motion on the machine, that kind of simplification goes a long way.
Additional simplicity and compactness are gained because no PLC is involved. Both logic and motion are governed by the PacDrive automation controller.
ZAC is also among the first to use Elau's iSH Series Intelligent Servo Modules. Each self-contained servo module receives power and communication from a cable coming out of a nearby distribution module. The distribution modules are fed by a shared power supply in the control cabinet. This approach means ZAC is able to do away with something found in a more conventional configuration of servo motors: the encoder cable and the power cable extending from each servo motor back to the control cabinet.
According to Momich, the servo technology supplied by Elau brings another important machine characteristic: flexibility.
"Changeover from a one-count to a 10-count, or anything in between, is done in ten minutes or less, which we believe to the fastest in the category," says Momich. "And no tools are required. It's a matter of picking from a menu on the touch screen. You select the recipe you want, and all the adjustments on the machine are made automatically."
One last characteristic of the new cartoner is its balcony design, which isolates drive components from the operating area. This allows work to be done on the machine without having to clean or sterilize it afterward. This appeals to drug makers or other manufacturers that have a special need for strict sanitation.
Companies in this article