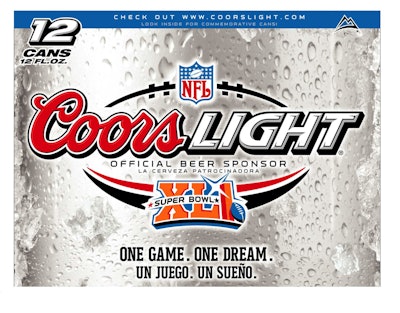 Fans from Illinois, Indiana, and elsewhere excited about the 2007 Super Bowl clash between the Chicago Bears and Indianapolis Colts include many Hispanics.
According to the NFL, 77 percent of bilingual Hispanic men ages 21 to 34 consider themselves football fans. Coors Light®, the official beer sponsor of the NFL, is rolling out bilingual Super Bowl promotional packaging in Texas and California this month to reach the growing Latino segment of football fans.

"The popularity of NFL football among Latinos in the U.S. continues to grow at an accelerated rate," says Paul Mendieta, marketing director, US Hispanic and Latin America, for Coors Brewing Co. Golden, CO. "Appealing to Latinos' affinity for the NFL around the Super Bowl, the biggest football event of the year, allows Coors Light to bring an exciting brand experience to this consumer."
Un Juego. Un Sueño

The Super Bowl-themed bilingual packaging incorporates the Coors Light, NFL, and Super Bowl XLI logos in its design, which was handled by Landor Associates (www.landor.com). The Super Bowl XLI tagline 'One Game. One Dream.' appears on the secondary paperboard multipacks in English and Spanish (Un Juego. Un Sueño). Consumers can find commemorative cans inside.
Bilingual copy also appears on the cans as well as on bottles. "The Silver Bullet" translates as "La Bala de Plata," according to Coors spokesperson Kabira Hatland. She tells Packaging World that Coors has been involved in Hispanic marketing for 20 years: "We offer bilingual copy on select packages, primarily focused around innovations and major promotions." Coors Brewing Co. is a subsidiary of Molson Coors Brewing Company,


Companies in this article