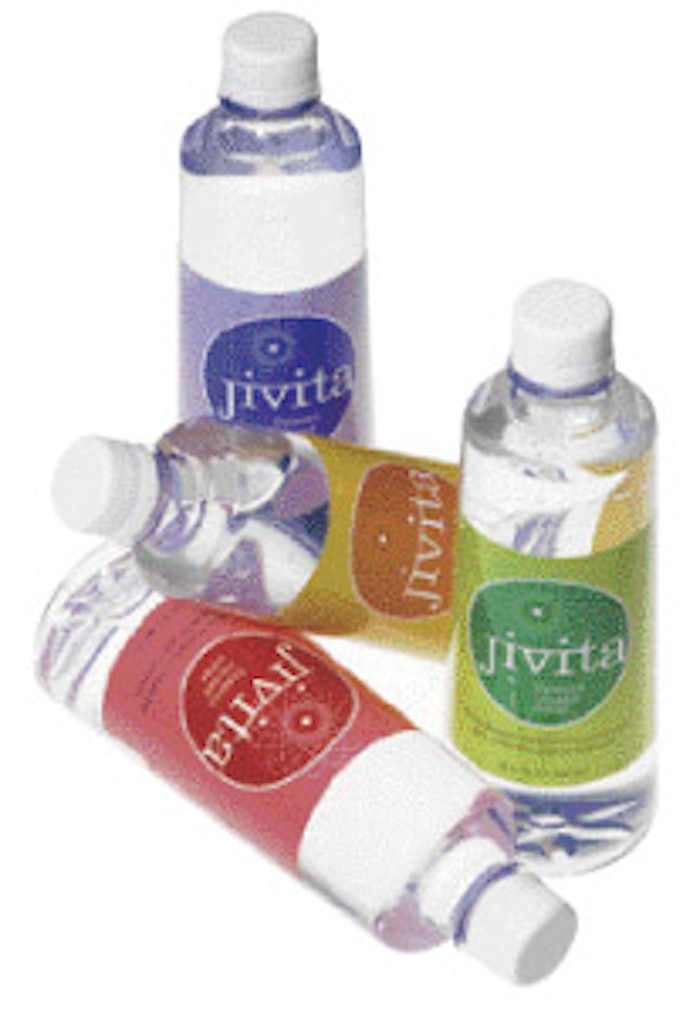 Among the latest is a 16-oz bottle for Jivita flavored drinking waters, which are infused with organic extracts that make them, says Jivita, "the first aromatherapeutic waters to hit the marketplace."
The bottle is made of NatureWorks (www.natureworksllc.com) PLA, a polylactide polymer based on corn. According to Mary Ellen Smith, a co-founder of Jivita, glass was considered too heavy and PET was deemed less desirable from a sustainability standpoint. "Our business is based on sustainability, which means making minimal impact with your packaging," says Smith. "NatureWorks was a natural fit with our product, company philosophy, and target customer base."
Located in Wailuku on the Hawaiian island of Maui, Jivita has its 16-oz bottles filled by a contract manufacturer in Oregon. Consumers in San Francisco will be the first to purchase Jivita water, which will sell for $2.49-$2.99 at select supermarkets. The West Coast, Smith points out, is more advanced in its commercial composting infrastructure, so it is her opinion that these containers will indeed make their way to the compost. But California is just a jumping-off point. Nationwide distribution, the company says, is a goal.
Pressure-sensitive labels applied to the bottles are also made of NatureWorks PLA. They're printed flexo in five colors by All-Stick (wwwallsticklabel.com). Bottle preforms—Smith says they weigh 1 oz—are injection molded by Planet Friendly Products (www.planetfriendly.com) and then blow-molded by Bomatic (www.bomatic.de).
The injection-molded polypropylene cap, says Smith, may one day be replaced by a cap made of NatureWorks, too. "They don't have one yet, but they're working on it," she says.
—Pat Reynolds
Companies in this article