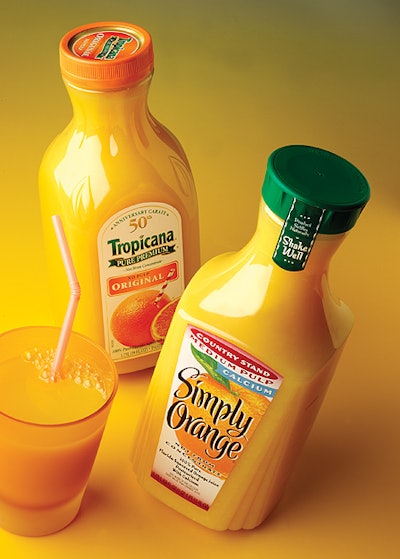 Atlanta-based Coca-Cola was issued two patents on the Simply Orange carafe design in June 2002. "Simply Orange is a very successful product," said Ray Crockett, a spokesman for Coca-Cola. "We believe Florida's Natural is purposefully trying to take advantage of our success."
Simply Orange is a not-from-concentrate (NFC) juice, introduced in some markets in 2001, and distributed nationally since last June. Florida's Natural introduced the carafe last fall for several of its juice blends, but the packer doesn't fill a NFC orange juice in the container.
Stephen Caruso, chief executive at Florida's Natural, calls the suit harassment, and says it buys its carafes from Plastipak Packaging. "On the surface, it appears there is plenty of difference between our bottle and the Coca-Cola bottle," he says.
In a comparison of containers published in the Lakeland, FL, newspaper, The Ledger, a carafe of Tropicana's Pure Premium orange juice appeared to more closely resemble the Simply Orange carafe in height, neck size, and footprint. The Florida's Natural bottle (not available for photography at press time) is shorter by ½" and the neck opening is much smaller.
When Coke's Crockett was asked about the similarities between Simply Orange and Tropicana's carafe-like bottle (also shown here), he said: "We've never had a serious problem with [the Tropicana carafe]."
Companies in this article