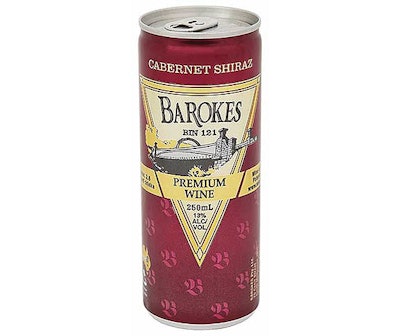 Barokes has developed Vinsafe, a patented process that includes the specifications for the premium wine, can lining and filling requirements. Since 1997, it has been packing a Cabernet-Shiraz and a Chardonnay in 250-mL aluminum cans that can produce a shelf life of up to five years. It also packs sparkling versions of those varietals.
Barokes declined to identify its can supplier, saying only that the can is a Slimline two-piece can, printed offset in six colors. By next month, says Greg Stokes, managing director, the company will have new graphics that "resulted from our focus groups and surveys held in a number of countries."
Barokes has added Taiwan, Japan, Singapore, Malaysia and Hong Kong to its markets over the last 18 months, says Stokes. More recently, the company has also received a patent on Mix-Pak, a paperboard basket carrier for four cans. The 250-mL cans regularly retail for the equivalent of $2.75. The company primarily targets on-premise outlets for what it calls its Ready To Drink Wine, although it is sold at retail as well.
The company is interested in locating licensees in North America and Europe. Barokes Wines can be contacted via its Web site: www.wineinacan.com.
Companies in this article