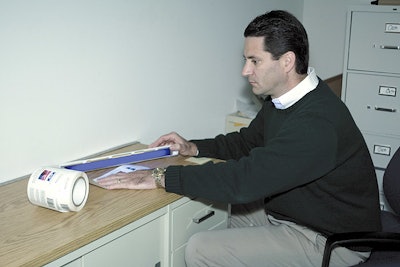 Pharmaceutical manufacturers can now use new technologies to authenticate labels on bottles or cartons, thanks to a new system employed by papermaker Appleton and by its converter partners like Zebra Technologies and New Jersey Packaging.
At the heart of the process are new paper substrates from Appleton that permit covert tracking, either through a taggant embedded in the paper or a read-write thread in the paper. The company also has developed a chain-of-custody database that approved converters use so the materials can be authenticated.
"When we order rolls of these TechMark papers, they're shipped from Appleton's Harrisburg, PA, distribution center to our plant," explains Dave Frumkin, sales and marketing director for New Jersey Packaging. "The shipping label on the wrapped roll of label stock incorporates a read/write thread. Our quality manager uses a TechMark reader to scan the label. The reader shows us the material, roll length, the date, and other kinds of identification that's unique to that roll of paper. So it's like a fingerprint."
Although Frumkin would like to identify phamaceutical companies that have begun to use the new security materials, he said he has to be vague because these companies are secretive at this stage. "We serve both domestic and international pharmaceutical makers. This topic has become one of the most requested issues that we're involved with," Frumkin says. "We continue to develop improvements for securing the supply chain."
In NJP's operation, once the material has been received and the thread scanned, the quality manager then reports that information back to Appleton to update its database. "For example, if the scanned information says the roll is 5ꯠ feet and we received only 2ꯠ feet, we'd know there was a problem," Frumkin notes. So the shipping label with the read/write thread is the covert way to assure the security of the supply chain between Appleton and New Jersey Packaging.
"The pharmaceutical company never really sees this part of the security chain. Inside the package, the taggant material embedded into the label paper we convert is what's used by the customer to verify authenticity," Frumkin adds.
The converter supplies back to Appleton both overt and covert codes, explains Joe Pleshek, brand protection segment manager for Appleton. "We update our database, along with perhaps some end-use details about their application for that roll," he says. "So our database tracks that roll of paper to and through the converter."
Locked and audited
Once the label paper has been verified, the security papers are held in a locked, quarantined, secure location with limited access, Frumkin points out. Only a few people at the plant have the ability to procure paper out of the locked inventory.
New Jersey Packaging keeps meticulous records about that roll of material. "We carefully track how much we've used in production, how much was involved in waste as makeready and in production. We need to be able to account for and document how much of that roll was used for every job we print, how much was used for finished product, how much for waste, and how much was returned back to secure storage," Frumkin reports. "We also document the quantities we use for tests or demonstrations."
In addition, New Jersey Packaging has on-site a shredder for immediate disposal of waste. "We ensure that it's not sitting around, where someone could remove it intact," Frumkin says.
Two sets of records
Although production records don't physically go back to Appleton, they're available to the company for auditing the process. "If Appleton asks about certain jobs or rolls, we can show them the figures of our usage that have been signed for," Frumkin points out.
And these records are kept in two places, one in the documentation manual, and another copy in a fireproof safe. "Appleton audited our plan and its processes to make sure our procedures met what they wanted in a lockdown situation," Frumkin reports.
New Jersey's plant has secure entry for the building, so it's got very limited access. Any time the roll is converted, it is shown on the production document, which is kept in a locked cage so it can't be tampered with, according to Frumkin. "Every cage has a tag on it that identifies the job number, the customer, and so on."
Special concerns in shipping
Although Appleton has developed the secure way to ship rolls of label stock to the converting plant, that converter may make changes in the way it ships converted labels to its customers. But the level of packaging security from converter to customer is part of the order spec from that customer, says Frumkin.
"There are a growing number of customers now asking for tamper-evident packaging of our labels," he says. "Obviously, we've always used packing tape in our shipments, but not all of it was tamper-evident. If a customer asks for it now, we'll use it to ensure that a roll hasn't been breached en route. It's becoming more frequent as time goes by."
Typically, New Jersey Packaging uses common carriers, but today it's usually the customer that specifies the company. Sometimes, Frumkin notes, it's more like a parcel shipment. "But the security we employ is up to them. If they want a truly secure shipment, we'll provide it," he says. In some cases, customers don't want to employ additional steps that would draw special attention to that shipment or package, he adds.
Neither Appleton nor New Jersey Packaging will call this program truly safe. "We tell customers that it's no silver bullet. It's not going to cure everything. It is a new and exciting way that the customer can incorporate another level of protection. But it may only be part of a multi-layered approach."
Along with the security devices in these papers, New Jersey Packaging talks about infrared inks as another of many layers that could be in the security strategy of a given pharmaceutical company.
Modest changes in-plant
Whether it's printing a conventional label paper or one of the special stocks from Appleton, Frumkin says there is very little change in converting.
"The great feature of these materials is that their effects on our printing operation have been nonexistent," he reports. "They fit in well with our operation and with our customer's as well. Our people know they're running a different paper, but few of our workers have to understand what it involves."
Another company involved is Zebra Technologies, and it's part of the program in two ways. On one hand, Zebra makes the thermal-transfer printer that's being used by the Harrisburg, PA, distribution center. The printer produces a shipping label with a bar code on it for identification, along with the security thread that is scanned by a reader at the converter.
What's even more important, Zebra's Supplies Division has been designated as one of Appleton's approved converters for its brand-protection products. So not only has Zebra extensively tested these papers with its thermal-transfer printers, it's also tested them with its wider-web converting operations.
Tightening the chain of custody for critical items like packaging labels has definitely moved up on most companies' priority lists.
Companies in this article