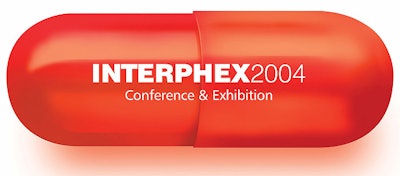 With the pharmaceutical industry in the midst of a revolution that is radically changing approaches to both manufacturing and packaging processes and how they are regulated, Interphex2004 couldn't come at a better time.
Scheduled for March 16-18 at the Jacob K. Javits Convention Center in New York City and managed by Reed Exhibitions, Interphex is celebrating its 25th anniversary. As always, the show is designed to keep attendees up to date with the latest technical advances and changes to the regulatory environment. Some 950 exhibitors will be on hand.
Key pavilions at Interphex include Packaging, Automation & Controls, and Security & Safety. Show hours are 10:00 am. to 5:00 p.m. March
16-17, 10:00 a.m. to 3 p.m. March 18.
This year's featured event is a panel discussion with Dr. Janet Woodcock, Director of the Center for Drug Evaluation and Research. Titled What to expect from the FDA and how will it impact pharmaceutical manufacturing, this thought-provoking panel discussion will be moderated by Justin O. Neway, executive vice president and chief science officer, Aegis Analytical Corp.
Interphex exhibits are complemented by insightful education from industry experts focusing on the unique discovery, IT, and processing needs of the industry. Multi-track technical sessions focus on the latest trends, and informative accredited short courses offer professional advancement. In addition to learning how to deal more effectively with core manufacturing issues, conference attendees will discover proven methods to help ensure regulatory compliance, optimize manufacturing resources, and implement current good manufacturing processes.
For complete show and conference information, including online registration and a complete list of exhibitors, visit www.interphex.com.
Companies in this article