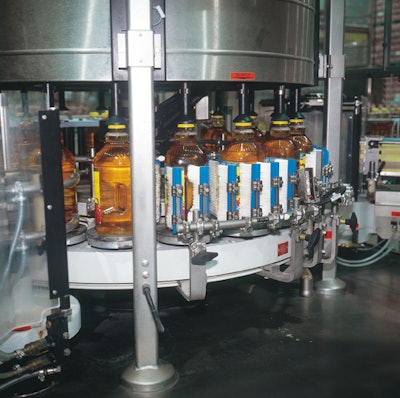 On The Freedom Line at Mott's Aspers, PA, production facility and distribution center, apple juice, Clamato, and Hawaiian Punch are filled aseptically into PET bottles in 32-, 64-, 86-, and 128-oz sizes. The aseptic filling system is among the most sophisticated of its kind (see packworld.com/go/c074). But secondary packaging is equally impressive in the way that it gives Mott's, a Stamford, CT-based division of Cadbury Schweppes, options to pick from.
The best way to appreciate this is to follow bottles as they exit the filler. The first piece of equipment the bottles run through is a labeler. But between the labeler and the filler are two Dynac vertical accumulation systems from Hartness (www.hartness.com). The one closest to the labeler ensures that if the labeler goes down for any reason, freshly filled bottles will have a place to go until the labeler is back in operation. If this accumulator nears its capacity, two things happen automatically. First, the upstream Dynac begins to accumulate bottles. And second, bottles stop entering the aseptic filling system. Without such an arrangement, a downstream stoppage could cause backed-up bottles to get stuck inside the aseptic chamber, where exposure to excess heat and hydrogen peroxide would ruin as many as 400 bottles.
Labeling is performed by a Krones (www.krones usa.com) system that glue-applies front and back paper labels.
"We selected this labeler because we were confident that it would reliably handle our large, one-gallon bottle at the speeds we needed, which is usually in the 200 to 220 bottles-per-minute range," says Mark McAndrew, vice president of engineering at Mott's.
Exiting the labeler, bottles pass by a Videojet (www.videojet.com) ink-jet coder that puts a production date code on each bottle's shoulder.
A short distance from the labeler is the third Dynac vertical accumulation system in the line. This one permits the labeler to keep running if some equipment downstream from the labeler goes down.
Opening up options
After bottles pass this third Dynac accumulator, the line opens up a number of options. For example, the next piece of equipment is a plastic bail applicator. But it only applies the handle to 1-gal bottles. The other three bottle sizes bypass this machine, which was supplied by PakTech (www.paktech-opi.com).
"No one had a machine to put handles on one-gallon bottles at the speeds we required," says plant manager Tom Leedy. "We went into partnership with PakTech to develop both the machine and a plastic handle that complements it."
Shortly after the PakTech handle applicator is a fork in the line. The two smaller bottle sizes are conveyed to the right and into a tray packer/partition inserter/shrink wrapper from Italy's Ocme, represented in the United States by Ocme America (www.ocme.it). Exiting this machine, trays are conveyed to a remote palletizer and stretch wrapper.
The path followed by the two larger bottles, sold primarily through club stores, is a bit more involved. The bottles are conveyed to the left and into a 320/70 iRT system from Kisters Kayat (www.kisters.com). The second of its kind to be installed, it operates in either of two modes. For 1-gal bottles, it partially erects a full wraparound case and positions the case in front of the bottle flow. Collated into a 2x2 pattern, the 1-gal bottles are conveyed into the case, becoming their own mandrel to complete the wraparound process. Hot melt gluing is done by a Series 3900V from Nordson (www.nordson.com).
For 86-oz bottles the 320/70 iRT system erects a corrugated tray, erects a corrugated partition and inserts it into the tray, and loads eight bottles—collated two across and four in the machine direction—into the tray. To accomplish all this, the system gets help from two four-axis robots from Fanuc Robotics (www.fanucrobots.com). One robot picks three erected partitions per cycle and transfers them to a central staging station that immediately rotates the partitions 90°. That orients the partitions for the second robot, which picks and places them on a flat tray blank on which eight bottles in a 2x4 pattern already sit. The tray then continues forward through automatic folding and gluing.
The Kisters case/tray/partition-handling part of the system incorporates nine servo motors. Four more servos control each Fanuc robot. All 17 Allen-Bradley servo motors are from Rockwell Automation (www.rockwellautomation.com).
The servo motors in the robots are controlled by a Fanuc motion controller. The nine servos in the Kisters portion are controlled by an Allen-Bradley ControLogix PLC. The Kisters and Fanuc systems communicate with each other, and with the Allen-Bradley RSView human/machine interface software, by way of an Ethernet supervisory network. As packaging systems go, it all adds up to an impressive combination of flexibility and capacity. According to Mott's Roger Petty, director of engineering, it wouldn't be possible without servo motors.
"When packaging machines first went from chains and gears to servos, the servos weren't as reliable as you'd have liked," says Petty. "But today, it's hard to find a packaging machine without servos."
The benefits
Deputy plant manager Kurt Martin appreciates what the servos bring. "Elsewhere in our operations we might have four separate pieces of equipment to do what this single integrated system does," says Martin. "We really like the flexibility."
Trays or cases exit the 320/70 iRT system on a powered roller conveyor. Cases move straight to an incline conveyor that takes them to palletizing and stretch wrapping. But trays are conveyed to a counting device that sends three trays down one spur and then three down the other. Each spur leads to an identical "dog-bone" carrier applicator supplied by PakTech. Four carriers are pressed down per eight-count tray. Each dog-bone carrier has a bar code that gets scanned so that if a pair of bottles is missing its carrier, that tray is automatically diverted to a reject lane. Trays without problems move up an incline conveyor and then are taken to the remote palletizer and stretch wrapper.
And how many operators are required to make The Freedom Line tick?
"We have one operations manager leading 10 Best Practice Operators," says plant manager Leedy. "That's from the blow molder through the filler and on into secondary packaging and transfer of full pallets to finished goods inventory."
And why "The Freedom Line?" Where did the name come from?
"We were so pushed for case output that when the new line went in we figured we'd gain some freedom from production woes," says Leedy. The name was coined just a few days before 9/11, which only gives "The Freedom Line" an added resonance.
Companies in this article
Videos from Nordson Corporation