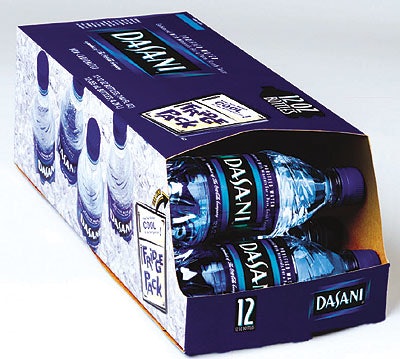 When you've got a packaging winner, why not capitalize on it for other products and containers? That's the concept at Charlotte, NC-based Coca-Cola Bottling Co. Consolidated, the company that first introduced Coca-Cola North America's Fridge Pack for soft drinks in cans (see packworld.com/go/c042).
The Fridge Pack is a 6x2 configured 12-pack that fits conveniently on shelves or in the doors of most refrigerators. A special perforated tear-off corner is used to open the paperboard container and enable the package to dispense the containers. The paperboard package for cans was jointly developed by Coca-Cola and Riverwood Intl. (Atlanta, GA), which calls the package the Fridge Vendor™.
In May, Coke Consolidated began to roll out a new Fridge Pack for 12-oz bottles of Coca-Cola's Dasani-brand water. However, unlike the Fridge Pack for cans, the new pack for PET bottles was not subjected to extensive consumer research. "There was really no research for this package. Ultimately, we went with our gut feeling that this package would work," says Norman George, senior vice president and chief marketing and customer officer at the Coke bottler.
In fact, George explains that the new Fridge Pack for bottles moved from concept to the marketplace in just 120 days! That's because the plant had previously ordered a new QuickFlex 600 multipacker from Riverwood to produce other packaging. But both the manufacturing and marketing groups at Coke Consolidated knew that this machine could be used for a variety of bottle packages from 12- to 24-packs.
Like the pack for cans, the Dasani Fridge Pack is a 2x6 bottle arrangement overwrapped with paperboard. It has a larger profile than the can pack because of the shape of the 12-oz PET bottle. The new Fridge Pack for bottles uses 21-pt AquaCoat wet-strength paperboard, heavier than the 18-pt used for cans, according to Enrico Francis, Riverwood's marketing manager for soft drinks. In part, the added strength is needed because, unlike cans, the bottle profile isn't consistent.
"Because the neck of the bottle is much narrower than the base of the bottle, there is far more air in this package, compared to the uniform shape of cans," Francis says. "Because of this air space, that part of the package could be prone to crushing. So our designers had to do some things to negate that." Helping to add rigidity to the bottle, Dasani is filled with a small amount of liquid nitrogen to create pressure inside the bottle.
Francis is unwilling to divulge much information about the modifications that Riverwood has made while this package was in development, except to confirm some changes to the finger-hold area and in the opening feature. In the opening device, he says, the perforating pattern in the board was changed. "We discovered that we had to walk a fine line between easy opening and 'early' opening," he says.
Multipack plans
About two years ago, the Charlotte plant took out a glass bottling line and replaced it with a "slim" plastic water bottling line, intending to add a second slim water line alongside it, says Dave Brown, manager of engineering at Coke Consolidated in Charlotte. Later, in place of a second water bottling line, the plant installed the Quickflex multipacker from Riverwood and connected it via conveyors into the output of both the water bottling line and a plastic bottling line for carbonated soft drinks.
"We can use this machine either for our carbonated products or we can run our water bottling line into it," Brown says. "So this new machine gave us some additional flexibility in terms of secondary packaging." So much so, in fact, that the company decided to look into a Fridge Pack for 12-oz PET bottles.
"We had conducted focus group tests after the original Fridge Pack was in use, and it was obvious that the head-of-household manager—usually the wife—just simply gets this package," George explains. "It fits not just their refrigerators; it fits their lives. The most dominant comment we had about the Fridge Pack for cans was 'What took you so long?'
"So when we factored in the explosive growth of the bottled water category, the question became 'Why not water?' Ultimately, the buyers are similar consumers—maybe different households—but the same type of primary buyers, predominantly female. So we felt this package was a natural for the water category."
Great reaction
Although the package itself has undergone some tinkering, George says the reception has been
terrific.
Ron Hammond, Coke Consolidated's manager of supply chain, was the manufacturing executive responsible for creating the package. "What we really wrestled with was the question, 'Can you use what's really a package for cans and adapt it to plastic bottles?'" he says. The other concern, both Hammond and Francis confirm, was whether consumers would buy water without a transparent package.
"When we showed consumers the Fridge Pack for bottles, they loved it," George reports. "And this was right after they had told us they wanted to see the primary package and its contents." Hammond worked with Coca-Cola North America to get the graphics approved.
"With a closed package, we wanted to make sure the graphics quickly communicated that there were bottles inside," Hammond notes. "That's why Coke developed the image of bottles sitting in ice."
For now, the new Dasani package is available throughout Coke Consolidated's marketing area. In all, George says the territory includes some 20 million consumers.
"Once you know that 12-ounce PET bottles can use the Fridge Pack, it opens the door to lots of other products, doesn't it?" asks George. "Will half-liter Coca-Cola be next? So long as we continue to see the phenomenal results of our Fridge Pack in the market, we'll just continue to brand that package. We couldn't be more pleased."
The new pack will retail for about $4.49 or be an advertised special at $3.99. "The water category is growing, and our view is that package innovation is how a company will be successful in the category," George concludes.
See sidebar to this article: Speeding up the first Fridge Pack
For more on the development of the Fridge Pack, see: packworld.com/go/w032
Companies in this article
Videos from Graphic Packaging International