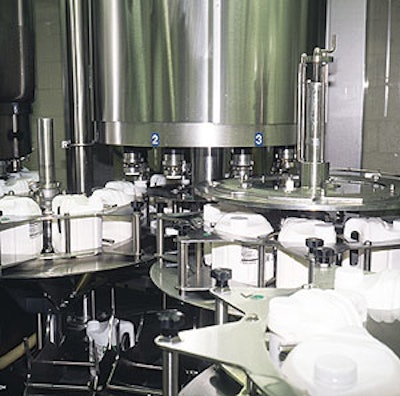 Caseless shipping of dairy products is alive and well on two nearly identical lines at Superior Dairy in Canton, OH (for a close look at the philosophy behind caseless shipping, see story on page 52). Specialized equipment plays a key role in this unique approach to packaging, and because the two lines have a lot in common, a look at Line One is a good place to begin. It's been running since '98, but equipment has been added steadily since then.
Both ½-gal and 3-L bottles, blown in-house of white opaque HDPE, are filled on Line One. Products include not only milks in a variety of fat-content percentages but also orange juice, chocolate milk, and buttermilk. Ice cream mix for foodservice customers is also filled.
All HDPE bottles filled on the line are blown upstairs on a system supplied by Uniloy Milacron (Manchester, MI). They're automatically bagged on a machine supplied by AIS Container Handling (Dutton, MI) and then brought down to the filling line on pallets. An operator feeds bags of bottles into a debagger, also from AIS, that slits open the bags and feeds the empty bottles down a matte-top conveyor until they reach a takeaway conveyor that runs at a right angle. This takes bottles in a single file to labeling.
The pressure-sensitive labeler, from WS Packaging-Superior Machine Systems (Mason, OH), is equipped with bottle stabilizing tools so that the light bottles remain steady as the paper labels are applied. Just before label application, a Smart-Date 2i thermal-transfer print unit from Markem (Keene, NH) applies the date code to a blank space designed into the preprinted label; it also prints nutrition facts, ingredient data, and bar-code information on the half of the label that's left blank by the label converter.
Separate filling room
As soon as bottles exit the labeler, they're conveyed into a separate filling room that is overpressured with HEPA-filtered air. Inside this room is an enclosure that houses the filling and capping equipment, supplied by Serac (Carol Stream, IL). This enclosure is also overpressured with HEPA-filtered air.
While most dairies rely on level-sensing piston fillers, whose nozzles come in direct contact with the product filled into each container, Superior's 16-valve Serac machine is an electronic net-weigh filler. Each bottle's neck finish remains a half inch below the nozzle during filling, which minimizes chances for contamination. Overpressured HEPA-filtered air inside the filling/capping enclosure also keeps airborne contaminants out. These sanitation measures let Superior give its milk a sell-by date of 21 days, about six days longer than what is typical. The extra shelf life is important because Superior's caseless shipping concept aims to take milk through central warehouse distribution rather than direct store-door channels.
At the tip of each filling valve, a steel ball that is unseated through magnetics lets milk flow through. The ball is governed by an Allen-Bradley PC from Rockwell Automation (Milwaukee, WI). As soon as the PC receives a signal from the load cell in the bottle platform that the correct weight of liquid is in the bottle, the valve receives a signal from the PC to close.
"The 1-gal bottles are filled to within plus or minus one-and-a-half grams, usually to within three-fourths of a gram," says Superior CEO Joe Soehnlen. "A traditional milk jug, though, is usually overfilled by as much as three-fourths of an ounce because level-sensing fillers aren't that accurate."
A starwheel transfer takes bottles to an eight-head capper for application of a 43-mm threaded safety-ring closure that's injection-molded of polypropylene. All three bottles take the same size closure. After capping, bottles are conveyed out of the Serac enclosure and subsequently out of the filling room.
Versatile bundler
Next is bundling, performed by a shrink film system supplied by Douglas (Alexandria, MN). It can be programmed to do two-, four-, or six-packs. Since Superior engages in caseless shipping, bundling serves several purposes. First, if a central distribution center needs to pick bottles to build an order on a pallet, order pickers won't have to deal with individual bottles. The bundles are more like case equivalents. Second, bundled bottles make for a much more stable pallet load than unbundled bottles. And finally, the wrap keeps the bottles clean.
Bundles of bottles are manually palletized at this point, though soon a robotic palletizer like the one on Line Two will be added (see sidebar). Pallets are then conveyed through a Lantech (Louisville, KY) stretch wrapper, after which they're ready for a truck.
Speeds vary according to product viscosity and bottle size, but top speed on Line One is 55 3-L bottles/min.
According to CEO Joe Soehnlen, it's been plenty expensive assembling the impressive lineup of equipment. And in a family-sized company that employs about 250 people, "Resources are not limitless," he adds. But he also makes it clear that he thinks he and his colleagues are onto something big with caseless shipping, something that could profoundly change an industry that hasn't changed much over the years. He sums it all up simply enough: "We think we can do this."
See sidebar to this article: The Line Two difference
Companies in this article