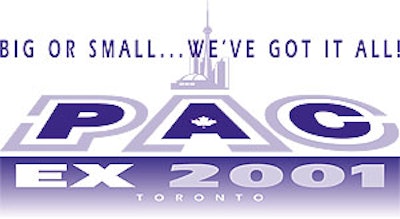 Companies from around the world will showcase their latest packaging equipment, materials, products, and services when Pac-Ex 2001 opens in Toronto this May.
Sponsored by the Packaging Assn. of Canada (Toronto, Ontario, Canada), the show runs from May 15 to 17 at the Toronto Intl. Centre. More than 600 exhibitors will display their latest and greatest to an anticipated 13ꯠ show visitors. PAC Trade Show chairman John R. Wilson, vice president and general manager of Nordson Canada, looks forward to some exciting new developments at the show.
"Speed, efficiency, automation, ergonomics, safety, versatility, performance, shelf impact—Pac-Ex exhibitors will deliver all this, and more," Wilson says. "They should be able to satisfy anyone's packaging wish list. And our Trade Show Committee has introduced some exciting show features." These include a pre-show breakfast seminar series, convenient online registration at www.pac.ca, and a career centre. There's even a special visitor-appreciation feature that will send some lucky showgoer home with a new car for one year.
On display at Pac-Ex will be the winning packages and all entries from PAC's National Packaging Competition, judged January 20, 2001. Also on display will be the winning entries in the PAC-Nestlé Mega Student Packaging Design Competition for Canadian college students in packaging-related programs.
Breakfast seminars begin at 8:00 a.m. The first of these is on Wednesday, May 15. Roger Miller, president of R.A. Miller & Co. Inc., and Scott Wilson, principal of TWD Technologies, will explore Benchmarking in the packaging industry. Their focus will be on plant operations and online packaging component purchasing.
E-commerce will be the subject for the Wednesday seminar, as Jim Harvey, industry manager of packaging at PackagingNetwork.com, leads a session on the opportunities that await savvy packagers.
Finally, on Thursday, May 16, Trends in packaging automation will be the subject of a panel discussion including representatives of Omron Canada and Siemens Canada Industrial Construction Group.
Show dates & times:
Tuesday, May 15: 10 a.m. to 6 p.m.
Wednesday, May 16: 10 a.m. to 7:00 p.m.
Thursday, May 17: 10 a.m. to 4 p.m.
Companies in this article
Videos from Nordson Corporation