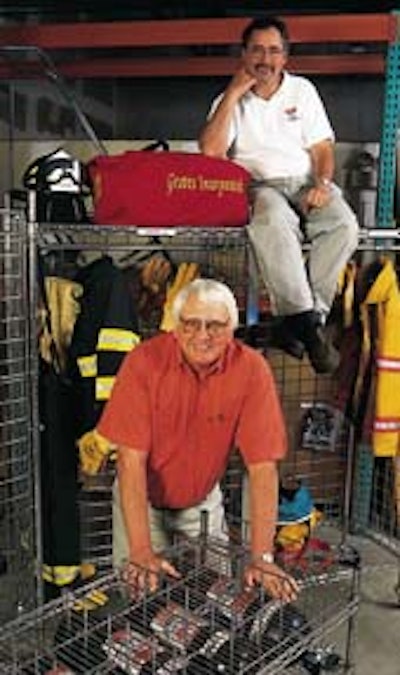 In the world of small business, time and inventory space occupied by packaging materials mean big money—something to which John Groves, vice president and national sales manager of McHenry, IL-based Groves Inc., can attest. So when Groves encountered PackagingPrice.com (www.packagingprice.com), a Web-based packaging distributor specializing in low-priced stock packaging, Groves decided to check it out.
In addition to the corrugated boxes that his company—a manufacturer of storage systems for the fire and safety industry—needed, Groves also found stretch wrap and tape on the site. "For the most part, prices are comparable to what I can find in a catalog somewhere else, sometimes a little less," he says.
Low minimums
But Groves found that low prices weren't the only benefit of using an online sourcing site. "I can order smaller quantities more often and not have to wait long periods of time to get my materials," he says.
For example, Groves learned that instead of ordering 500 boxes to get a lower price from a box maker, he can order just 100 or 125 boxes on PackagingPrice.com.
Groves says he was surprised by the efficiency of the site. "It's very simple to use, because all you have to do is enter your company's address, credit card numbers, etc., the first time. After that, you just log on and order what you want." Delivery times, he says, are "super"—materials arrive overnight or within a few days.
Previously, the company had to go through a tedious process for every reorder. Groves would call the company's box maker for a quote, then physically type out and fax a purchase order for a large number of bundles.
Using PackagingPrice.com, Groves' office manager spends a few minutes ordering items online via credit card. "That saves me a ton of time, because she can do it now, and I don't have to mess with it," Groves notes.
According to Web site president and cofounder Willard Nye, PackagingPrice.com will continue to expand, eventually offering more custom packaging materials, particularly for corrugated box and folding carton supplies.
Additionally, the site plans to offer an inventory service to customers, which will allow small companies to store supplies in an inventory space provided by PackagingPrice.com, monitoring availability of their own supplies via the site.
Concludes Groves: "I think the people who don't look into something like [sourcing online], and who don't explore every method they could use to save time and money, are missing out."
Companies in this article