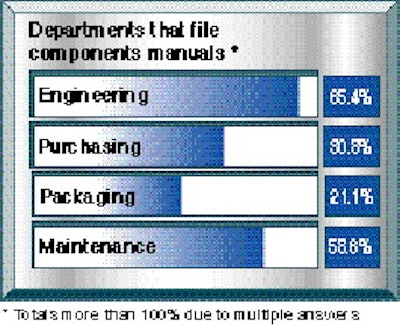 Just as it's difficult to correlate functions and job titles between different types of manufacturers, department names often have different functions within those companies. Still, the PW survey sought to identify which company departments were most involved in component selection.
First, the survey asked which of five departments or groups were most responsible for selecting the majority of components. Almost one in five reported that corporate engineering most often selected components. Nearly the same percentage (19.8%) revealed that plant management played that role. Meanwhile, the plant packaging department had the primary responsibility in just 10.9% of the cases.
If outsourcing is an emerging trend, it doesn't appear to have an effect on the selection of components. Far fewer than 1% said that consultants had this responsibility. Plant engineering, the most obvious answer, was the runaway winner with about half of all respondents.
This result was reinforced when the survey asked which departments keep component literature on file at each company. Because literature is likely to be filed in more than one department, many re-spondents gave multiple answers. Engineering was the most often named, by 65.4% of participants. Next, component manuals are most likely kept in the maintenance department; it was cited by 58.6%.
The purchasing department was noted by nearly one third (30.8%). The packaging department was home to component manuals just 21.1% of the time.