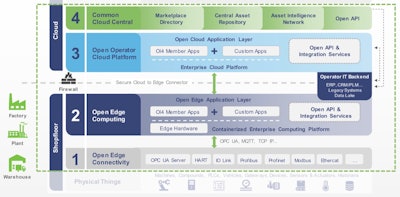 Multivendor alliances and partnerships have been a clear trend across the industrial automation sector in response to high levels of end user interest in pursuing various Industrial Internet of Things (IIoT) and Industry 4.0 initiatives to digitize their operations. These partnerships are arising from the realization that no one or two companies can offer everything the market needs when it comes to digitization.
Despite all the interest in IIoT and Industry 4.0 from end users and the growing array of alliances to support it, there remains a certain level of reticence among end users to make the leap.
"There's been a slow adoption of Industry 4.0 because no large manufacturing companies want to cope with an ecosystem of multiple cloud systems—and there is no one cloud system available that can do it all today," according to Patrice Favennec, senior vice president of sales, IOT, at Hilscher, a supplier of industrial communication and networking technologies. "These users want a simplified interface between the different systems they need. They want us — industrial technology suppliers — to build APIs between different systems."
To address this market reality, Hilscher, along with Arvos GmbH, Balluff, Beckhoff, Endress+Hauser, Gebhardt Fördertechnik, ifm, KUKA, MultiVac, Pepperl+Fuchs, SAP, Schmidtsche Schack, Samson, and Wika Alexander Wiegand have formed the Open Industry 4.0 Alliance (OI4).
Noting that many of the alliance's founding members are located in central Europe, Favennec said that although the alliance is originating there, the intent is to take the it global.
"This is a new approach," said Favennec, describing the alliance as being focused on the interoperability of the members' products and services, as well as on applying those technologies to digitize end user operations. End users and OEMs are invited to join the alliance to avail themselves of the interoperability efforts conducted by member suppliers.
The main goal of the alliance is "to take existing solutions and make them interoperable to speed up adoption of Industry 4.0," said Favennec. "It's not about recreating existing semantic models—everything we need already exists. This alliance is based on using existing technologies to execute on end users' specific digital plans."
To do this, OI4 members have designed a framework consisting of four layers connecting the physical assets on the plant floor to OI4's central "Open Manufacturers Cloud Platform." Layer One is "Open Edge Connectivity," where widely used industrial communication protocols such as OPC UA, HART, Profibus/Profinet, Modbus, EtherCat and others reside. This protocol layer can be connected via OPC UA, MQTT, TCP/IP or other networking options to Layer Two — "Open Edge Computing" — where OI4 member and customized apps, along with edge hardware, reside in a containerized enterprise computing platform.
OI4's secure cloud-to-edge connector connects Layer Two to Layer Three — "Open Operator Cloud Platform" — where cloud accessible versions of OI4 member and customized apps are positioned. These apps are accessible via OI4's open application programming interface (API) and integration services. Level Four is OI4's "Common Central Cloud," which houses a central asset repository and associated asset intelligence network.
This framework provides a common understanding for what end-to-end data semantic models mean for security, how to publish digital assets in central repository, and how to build the APIs for every level of the framework into a customer's manufacturing operations, said Favennec.
OI4 stresses that this framework is essential to addressing end user concerns about moving forward with any digitization initiative. In a white paper released in conjunction with the announcement of OI4 at Hannover Messe, the alliance explains that they have organized themselves in this alliance to address the major concerns of end users. The white paper describes these concerns as revolving around "easy onboarding of assets, with common data semantics across the user's own edge and Industry 4.0/IIoT cloud platform; and enabling a seamless bi-directional collaboration with multiple asset vendors for content and data. Currently, if a customer invests in Industry 4.0/IIoT Solutions from different vendors on different platforms, the burden to face the challenges described above must be carried by the customer alone."
The OI4 framework is designed to overcome these challenges, both for end users as well as technology suppliers, by establishing an open, agreed-upon framework from which to deliver interoperable technologies and services.
As OI4 describes in its white paper, "operators of factories, plants and warehouses perceive that large automation vendor-led alliances or platform initiatives lack the support from smaller, competitive equipment builders, making them reluctant to hand over operational data to their mega vendor. On the other hand, the midmarket alliances are not creating sufficient impact due to lack of global go-to-market capabilities and limited adoption. The ambition [of the alliance] is to focus on jointly creating customer value." With its open framework and focus on the end user — regardless of size — OI4 seeks to allay the concerns fostering industry inertia around digitization.
One highlight of the OI4 presentation at Hannover Messe was a slide that clearly exemplified the transparency of the alliance. The slide (which also accompanies this article) denotes each place along the four layers of the OI4 framework to which each technology supplier applies. This makes it easy for end users and OEMs to visualize what members offer what technologies to close the gaps in their digitization effort.
"The intent is not for OI4 members to rule the relationship between customers and their solutions, but to create API links between the customer-specific cloud and the OI4 cloud applications above it," Favennec said. "The customer decides what data leaves their cloud environment."
Favennec also described the alliance's egalitarian pricing model, which is designed to encourage high levels of end user participation in the alliance. "Founding members and participating members pay a set fee to join. For users, however, the cost is aligned to their revenues, so it does not preclude smaller companies from joining," he said.
Companies in this article