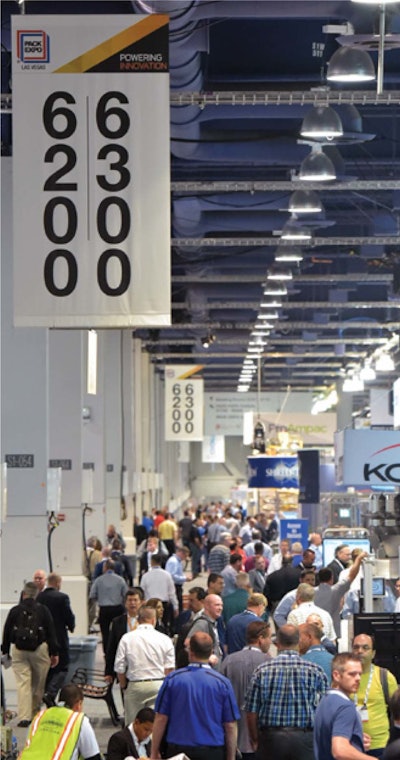 PACK EXPO Las Vegas 2017 was another record setter, as the show welcomed nearly 1,000 more attendees than the show held in 2015.
"The overwhelming success of PACK EXPO Las Vegas and Healthcare Packaging EXPO, coming on the heels of our success at PACK EXPO East, ProFood Tech and EXPO PACK Guadalajara, confirmed our belief that our industry views the PACK EXPO brand as must-attend events," says Jim Pittas, COO of PMMI, The Association for Packaging and Processing Technologies. "Our exhibitors and attendees expect PACK EXPO to carry out first-class events, and this show was no exception."
Each year the editors of PMMI Media Group who attend this show take note of innovative packaging and processing technologies. The editors contributing to this report are:
Matt Reynolds, Editor, Packaging World
Pat Reynolds, VP Editor Emeritus, Packaging World
Anne Marie Mohan, Senior Editor, Packaging World; Editor, Contract Packaging
Stephanie Neil, Senior Editor, Automation World; Editor, OEM
Joyce Fassl, Editor-in-Chief, ProFood World
Natalie Craig, Associate Editor, OEM
Machinery innovations
Gerhard Schubert GmbH is known for its modular, intelligent TLM packaging lines, which consist of seven different standard top-loading systems for secondary packaging functions. Last year at the FachPack fair in Nuremberg, the company introduced its TLM – Flowmodul, the first primary packaging component to be fully integrated with TLM secondary packaging technology without an electrical cabinet. According to Flowmodul Product Manager Johannes Schubert, the flow-wrapping module, showcased on the PACK EXPO Las Vegas show floor (1), is designed for small batch sizes, short product life cycles and high-level product diversity.
"This is what makes the application so attractive in many sectors," Schubert said. "Our flow-wrap technology is currently being used to package a wide range of products, such as chocolates, biscuits, cakes, yogurt cups and even ice cream, which demonstrates the Flowmodul is already showing great success in many different industries."
In Las Vegas, Schubert demonstrated a picking line with five F4 four-axis pick-and-place robots, which placed biscuits in the Flowmodul's product feeding system and packed them in flow wraps. The Flowmodul's product feed consists of a flexible, fully automatic adjustable chain; products are carried on toothed belts. The chain speed is regulated by the robots and continuously adapts to the product flow. The Flowmodul and the feed consist of eight NC drives and four positioning drives. For conversion to another product, the Flowmodul and the chain are automatically adjusted. The format change is handled simply and quickly, according to Schubert. And after the conversion, no adjustments are required. The change from one film roll to the next also takes place automatically.
The Flowmodul is fully integrated into the packaging line without an electrical cabinet and is controlled via Schubert's VMS packaging machine control system. Since the same control components are used for the robots, control of the entire system is managed through a single terminal.
Speaking on the latest model variants, Schubert noted that the company has been even more closely oriented to the modular TLM concept. "With the focus on our users, we have significantly improved accessibility for maintenance and cleaning," he said. "We have also made suspension of the film rolls more ergonomic. This all makes the Flowmodul even easier and more efficient for technicians and machine operators."
At the show, Schubert also tipped the company's hand on "an unprecedented sealing technology" expected to be released late next year. The new technology, shared Schubert, will enable the use of hot-seal film even for sensitive products. "Nowadays, sensitive products such as chocolate bars are wrapped in cold-seal film to avoid melting the chocolate," he said. "Cold-seal film, however, in addition to its higher cost, has the disadvantage that it cannot be stored for an extensive period of time. The adhesive strip loses its strength over the storage period. Moreover, when the package is opened, the adhesive could contaminate the product, which, of course, is a significant consumer-related risk. I am pleased to be able to tell you that today we are anticipating great success with the new sealing technology and that we will be entering into series production in autumn 2018."
Patent-pending technologies were on display at the PACK EXPO Las Vegas booth of R.A Jones, a Coesia company, in the form of the Autoprod CF-400 cup filling system. Capable of denesting, volumetrically filling and applying foil lids to cups at speeds to 400/min., the machine emphasizes hygienic design and ease of maintenance, which makes it operator friendly and means it's 3-A dairy certified to standard 23-06. A precision, endless pocket drive belt replaces the more traditional chain-driven solution, and a patent-pending servo rotary drive mechanism means less grease, fewer bearings and a fundamentally more sanitary machine. Also adding to its sanitation bona fides is what R.A Jones calls a "revolutionary" fully-enclosed and asymmetric frame, cantilevered stations and sloped canopy. Customers have a choice of applying pre-cut lids from magazines or cutting lids from rollstock.
But what really sets this machine apart is that the food and dairy manufacturers who purchase it can opt for pulsed-light cup and lid sterilization in place of UV sterilization. This technology is from Claranor out of France. While this isn't the first appearance of this pulsed-light sterilization technology in North America, most previous applications have been more or less retrofits onto existing systems. So this move by R.A Jones is a notable one. As a replacement for UV sterilization, pulsed light is said to be quicker, requires less dwell time and minimizes machine footprint. Perhaps most important, it fits in neatly with the ongoing consumer clamor for a "clean" label. Upfront cost is higher than more conventional sterilization technologies, but long-term benefits cancel out this cost upcharge, said Claranor and R.A Jones. (See video at pwgo.to/3261.)
It seems as though the market has been waiting a long time to see commercialization of Amcor's LiquiForm® Group technology — a process that combines bottle forming and filling into one step, which was first announced in 2014. But in R&D terms, a lot of work has been accomplished during that time to address both technical and market hurdles. That's according to Ashish Saxena, vice president and general manager of LiquiForm Group LLC.
The technology, highlighted at the show, is the intellectual property of LiquiForm Group, a wholly-owned subsidiary of Amcor Limited. Currently, LiquiForm Group is licensing the technology to five licensees to move it forward more rapidly. These include Amcor Sidel, KHS Corpoplast, Krones and Japanese converter Yoshino Kogyosho Co. With these market-leading partners on board, Saxena says the first LiquiForm bottles should be on shelf in the coming months.
The core of LiquiForm is the removal of the "blowing" step from bottle blow molding. Instead, bottles are formed while being filled with liquid product. This results in a number of advantages versus forming bottles with air and then filling them in a separate step — the most obvious being the elimination of an entire step of the process and, therefore, the blow-molding machine itself. The process also significantly reduces equipment space and the energy required for the forming process, as traditional blow molding uses compressed air, while the LiquiForm technology uses incompressible liquid.
"Since we're using liquid and not air, a high-pressure air compressor is not required, so energy consumption is reduced a good 50 to 70 percent," explained Saxena.
The use of incompressible liquid also results in more consistent distribution of material across the container, as well as much sharper resolution than achieved with air, according to Saxena. This means brand owners can incorporate features such as embossing or even braille. The machine can use standard as well as custom preforms made from both PET and rPET, high-density polyethylene, and polypropylene.
One unanticipated — and game-changing — benefit of the technology, Saxena shared, is one that customers brought to LiquiForm Group's attention. "As end users have realized the flexibility benefits around materials and have seen how small and simple this entire packaging system is, it has triggered a lot of discussion around how LiquiForm technology can lead them to redesign their supply chains to move production closer to demand," he said. "Companies are now thinking that instead of producing product and filling it at one central location, and then shipping it across the country, which is terribly expensive and results in a large carbon footprint, they could produce closer to demand, let's say at a warehouse. This becomes a lot more feasible if you have a system that requires far less infrastructure and far less power, and is much simpler than today's blow-molding and filling systems. This is potentially an important consideration in other global regions and emerging markets."
Federal, powered by ProMach, introduced the XACT-FIL™ weight filler at the Vegas show. The new platform design reduces filler footprints by approximately 30 percent depending on the configuration of the filler. XACT-FIL uses 25 percent fewer parts, which simplifies operation and reduces maintenance.
Machines in this new line feature advanced controls that deliver high-speed and weight-based accuracy.
Open-source software enables customization and simplifies technical support. The control system features off-the-shelf components, according to Bob Adamson, Federal's director of global sales and marketing.
A three-axis servomotor drive train that includes Federal's Accu-Cycloidal gearing system provides low vibration and reduced maintenance requirements. Specialized drive-axis clutches prevent machine damage in case of a fault and enhance overall machine safety.
The new weight-based fillers are hygienic and easy to clean. They feature wash-down-rated individual load-cell enclosures, frameless upper guarding with easy-to-clean hinges, and a tabletop with only five bore shafts. The overall design minimizes harborage points where liquid or debris might accumulate. One available option, said Adamson, is "capable of steam sterilization with no chemicals needed for cleaning." Applications include food and beverages, such as soy and organic milk.
Over at the Nercon booth, a spiral conveyor with Intralox belting having full washdown capability was in operation. But it was Nercon's retractable conveyor that was really eye-catching. It's designed to be opened or closed, by means of a hand crank, while the conveyor is still running. Unlike more conventional drawbridge arrangements, which worry operators because of the possibilities of pinched fingers or damage to the conveyor due to slamming, this approach is considered safer and simpler.
Nercon representatives at the booth indicated it was attracting a lot of attention because sometimes personnel or machines need to get from one side of a conveyor to another without having to walk a long distance to get around.
Versatility and quick changeover was a common theme at PACK EXPO Las Vegas booths occupied by packaging machinery OEMs, including PMI Cartoning, Inc. PMI featured its Model HS1-12 horizontal cartoner (2), which is just as happy running side-load paperboard cartons as it is running paperboard sleeves. A variety of sizes and product types can be handled. (See video at pwgo.to/3297.)
Speeds range up to 160 sleeves or cartons/min. Controls are handled by Rockwell ControlLogix and Panelview Plus HMI. Digital position indicators from SIKO help with the quick changeover, as do tool-free snap-in/snap-out change parts.
Among the many technologies at the ProMach cluster of booths was a Matrix Morpheus XL vertical form/fill/seal machine (3) for wider bags than could previously be produced on the Morpheus line. Matrix says the machine is great for, among other things, frozen, fresh-cut and IQF packaging. With extra-wide jaws, this machine can do the work of two older and less capable f/f/s machines. Morpheus is Matrix's next-generation solution for high-speed f/f/s. The new Morpheus XL produces pillow bags from 2 in. wide all the way up to 15 in. That's 3 in. wider than the original model.
The Morpheus XL can run at speeds exceeding 120 bags/min. and is designed to run in intermittent as well as continuous mode. For the first time, a Morpheus f/f/s machine can also produce gusseted bags, too.
Bosch Packaging Technology debuted the next-generation Osgood RFS-Series (4) rotary. It hygienically fills, seals and caps dairy and food products into premade cups.
"This machine is a perfect example of how the North American market can benefit from Osgood and Bosch collaboration on product development," said Rich Mueller, sales director of Osgood Industries. "The best solutions from teams across the globe are brought together, making the products better and more efficient. It's a complete product line solution from one service provider."
The Osgood RFS-Series servo rotary machine offers abundant features while keeping its footprint to a minimum. The four-lane RFS-4001 fills cups at speeds to 160 cups/min. and is a good alternative for producers with limited production space. Available in both clean and ultraclean execution, the machine can fill a wide range of dairy and other food products into trays or cups, for example, and heat seal to them either pre-cut foils or rollstock film plus overcap.
The RFS-4001 filler is shown here with a harmonized pump design, which provides high filling accuracy and easier interchangeability between different machines. Just four basic dosing parts cover nearly all dosing principles and applications, making product changeovers faster and easier. Upgraded servomotors allow for quick and easy adjustments to the setup, enabling changeovers in as little as 15 minutes.
The RFS-Series filler can utilize one of three different machine controls (Bosch Rexroth, Rockwell or Siemens), allowing customers an easy integration of the machine into their existing production lines.
The Osgood RFS can be equipped with the latest HMI 4.0, which automatically leads operators through each of the production steps for easy operation and report functions. With the new HMI 4.0 as the gateway to connected industries, it's the first step to an intelligent, completely coordinated production line.
Also featured by Bosch Packaging Technology at PACK EXPO was the Biscuit on Pile packaging system, which consists of a vibratory infeed, a new innovative magazine feeder, a new horizontal flow wrapper and a new integrated top-load cartoner.
By significantly reducing the pusher's speed at the point of extraction and continuously guiding the product, this new solution enables higher production speeds. Handling biscuits on conventional magazine feeders limits the number of products per stack to the number of extraction magazines, or a multiple of it. The new Smart Pile Loading (SPL) feeder enables manufacturers to select the desired stack count via the HMI independently from the number of incoming lanes (lane flexibility) and allows for easy changes to package configurations.
The Bosch SPL feeder stacks two to seven products and groups one to four stacks to create multiple package configurations ranging from one to 28 biscuits per package.
Additionally, due to its ability to automatically and dynamically extract a variable number of cookies from each magazine, the SPL feeder compensates when the product supply from the oven to the packaging system varies. By extracting missing cookies from one of the other lanes to build a complete stack, this feature also supports automatic lane balancing. As a result, manufacturers can now equip their production with fewer lanes and automatically balance those lanes for increased uptime. In order to accommodate for inconsistencies in product thickness resulting from the baking process, the stacking mechanism can be adjusted via the HMI.
In the next step, the collated stacks are transferred to the Pack 403 horizontal flow wrapper, the next generation of the Pack 401, which has been upgraded to redefine the user experience. To simplify daily operation, all film rollers are numbered sequentially to make film threading more intuitive. Clear instructions for preparing splices are shown on the splicing table to increase success. The Pack 403 is also available with an innovative feature to precisely measure and control film tension, resulting in fewer jams and consistent package appearance during production speed changes and during machine starts and stops. For clearing jams and cleaning the crimpers, the Pack 403 features a manual hand wheel to rotate the cutting head, allowing easier service and maintenance while avoiding contact with the hot-sealing surfaces. Other usability features include a new film former that is significantly smaller and lighter while being completely tool-less, greatly reducing changeover time and improving the ergonomics.
Shelf-stable foods have come a long way in the past few years. Allpax, powered by ProMach, has joined forces with the School of Nutrition and Food Sciences at the Louisiana State University (LSU) Agricultural Center to help North American shelf-stable food companies develop high-quality, nutritious and tasty products.
Greg Jacob, general manager of Allpax, said the company is taking a different approach to the retort equipment market. "The modular design of Allpax's retort equipment allows customers to easily upgrade or expand. The Allpax 2402 multimode retort is capable of exceeding all commercially available retort and agitation modes," he explained.
According to Dr. Louise Wicker, professor and director of the School of Nutrition and Food Sciences at the LSU Agricultural Center, "Taste is a fundamental driver of food sales. By combining food formulation with messaging that connects with a target audience, shelf-stable foods can fit the lifestyles of the most discerning consumer."
The partnership between the School of Nutrition and Food Sciences at the LSU Agricultural Center and Allpax offers capabilities that include sensory science and packaging laboratories, experienced faculty who have relationships with global food developers and marketing leaders, and R&D retorts from Allpax (6). The Allpax Shaka® retort dramatically reduces the cook and cooling times required for in-container sterilization of low-acid foods. "We have the ability to prepare and package foods into metal cans or into injection-molded oxygen barrier packaging," Wicker said. "We can evaluate foods after retort processing for quality, acceptance and stability and allow informed decisions about commercial viability."
An Allpax 2402 multimode retort on display at PACK EXPO Las Vegas 2017 is similar to the one used at LSU. Each 2402 multimode R&D retort is customized to the specifications of the lab. One unit can offer as many modes as the customer chooses. These multimode retorts can run saturated steam, steam air overpressure, water immersion, water spray and water cascade processes in combination with seven changeable modular agitation modes — still, end-over-end, swinging, Gentle Motion shaking (low-speed), The Shaka (high-speed), hydrostatic simulation and axial rotation. These units accommodate cans, bottles, pouches, cups, trays, metals, glass, plastics, and double-seam film and foil closures and are capable of testing flavors and films.
A number of OEMs used PACK EXPO to introduce innovations in metal detection technology. Among them was Loma Systems, whose booth featured the IQ4 series of metal detectors (7). Loma's engineering teams have employed the company's "Designed to Survive" philosophy to deliver high metal detection sensitivity in a package that the company says is easy to install, easy to use, easy to clean and maintain; can withstand the arduous food production environment; and, ultimately, brings a strong cost-of-ownership profile. It also features optimized detector mechanics, true variable frequency technology and progressive electronics. "There are metal detectors on the market that are using multispectrum-style designs that use multiple frequencies at a time, but that adds cost and it adds complexity," said Loma's David Arseneault, North American sales manager. "For us, we use variable frequency, but we're having the metal detector work off of multiple algorithms in the background, so it simplifies things for the operator. So we get the performance, but at a lower barrier to entry for the operator."
Elsewhere on the show floor, the new CM33 CombiChecker product inspection system was highlighted at Mettler Toledo. During operation of the compact system, products pass through a metal detector, then are weighed on a checkweigher. Products detected to be contaminated with metal or that are beyond weight parameters are immediately rejected from the production line into separate reject bins for each defect, eliminating the possibility they will enter the marketplace.
According to the company, the CM33 allows companies to customize the system by selecting from a variety of options to match the needs of the specific operation where it will be used. These include selecting the most suitable checkweigher and metal detector from Mettler Toledo's range of options. In addition, a selection of available conveyors, guide rails, transfer plates, dual-locking reject bins and rejector types are available to accommodate a range of package types.
These mechanical features are then complemented with choices from a library of line integration, functional and operational, production monitoring and control, and communication options. This enables end users to customize the CM33's security, performance and data capabilities to meet the requirements of the relevant industry, customer and application.
The checkweigher and metal detector setup and configuration are done at the checkweigher control panel. Product changeovers result in each inspection device automatically adapting to stored parameters for the new package.
A highlight at the Thermo Fisher Scientific booth was the Sentinel Multiscan metal detector, which uses an innovative new technology to overcome the limitation of fixed single or dual-frequency metal detectors that can miss metal contaminants hidden in product signals. Multiscan technology scans a combination of up to five user-selectable frequencies from 50 kHz to 100 kHz. This enables users to identify contaminants that are considerably smaller in volume than previous technologies.Controls and IoT
While manufacturers talk about the convergence of automation technology and information technology, Beckhoff Automation (www.beckhoff.com) is delivering a comprehensive system architecture for packaging machines that automate hardware via advanced PC-based control technology.
The approach delivers all of the benefits of integrated PLC, motion control and HMI, while adding in other functionality for robotics, safety, high-end measurement, condition monitoring, cloud connectivity and the Industrial Internet of Things (IIoT).
Beckhoff demonstrated its "smart factory" solutions, showing motors and drives using its One Cable Technology (OCT) via EtherCAT P, which integrates previously separate power and signal lines into a single, standard four-wire Ethernet cable.
Another highlight at PACK EXPO included a new HMI software platform that can dynamically scale graphics to accommodate the screen formats from industrial displays to a small mobile device with a web browser. Based on HTML 5 and JavaScript, Beckhoff's TwinCAT HMI allows users to develop responsive platform-independent user interfaces that automatically adapt to the screen resolution, size and orientation of the device.
With TwinCAT IoT and TwinCAT Analytics, engineering efficiency is greatly increased because the software packages share the same universal platform as all other packaging machine programming tools from Beckhoff, including PLC, motion control, safety, HMI and robotics/kinematics.
Finally, the new C6015 Industrial PC (IPC) opens up application areas for PC-based control technology, especially those with pronounced cost or space restraints. Fully suited to industrial applications, this IPC measures just 82 mm x 82 mm x 40 mm, demonstrating the extensive scalability of PC-based control technology from Beckhoff. The Microsoft Azure Certified C6015 is suitable for machine control and IIoT applications by using powerful Intel Atom processors, including those with multicore technology up to four Cores.
Automation completely free of control cabinets is what AMK Automation Corp. was touting at Vegas. Its AMKASMART iSA motion controller measures about 10 in. x 4 in. x 2 in. Yet it functions as a motion controller PLC, a power supply for decentralized motor modules, and a 24-V power supply. As AMK General Manager and Technology Evangelist Tom Jensen puts it, "You can build a packaging machine with that little box being all the controls cabinet you need.
"It represents a departure from the way packaging machines have been built for the past 25 years. It's not a matter of buying a Hoffman or Rittal cabinet, putting some DIN rails in, mounting breakers and servo drives, and boom, you can actuate an assortment of servomotors. What we're saying is bolt this little 10-amp box to your machine, plug in your first servomotor, and then daisy chain the rest of the motors you need."
Germany-based AMK is a relative newcomer to the North American market, which is why Jensen, who has more than 20 years of experience in North America in the controls and automation space, was brought on board. One of the first adopters of the iSA device is a retrofit of sorts, said Jensen.
Another innovation at the AMK booth was the SPINDASYN SEZ linear drive motor system, in which the rotor is pressed directly onto the ball screw. Featuring high and constant force, precise position accuracy and high energy efficiency, the closed-loop positioning and force control of the SEZ make it an attractive alternative to other linear technologies, such as pneumatic or hydraulic cylinders, rack and belt drives, or linear motors.
Designed with a stroke performance and size factor to replace air cylinders, the newly available SEZ nicely complements the AMKASMART iSA, said Jensen. "With the iSA," he observed, "we're able to say to a machine builder, 'You don't need a controls cabinet.' But they quickly point out that they still have pneumatics in place, and, thus, they do, in fact, still need a cabinet. Now with SEZ, they don't. And you can do some pretty cool things with it."
Lenze Americas' c250-S safety controller enables engineers to program all of the machine's safety needs using just one engineering tool based on the PLCopen standard. Integrating the c250-S into an automation system will make engineering easier, improve diagnostics, and reduce the number of interfaces and components, according to Lenze.
"This expansion of the Lenze portfolio creates many advantages for the builders of machines and systems. Everything from the drive-based safety technology to the focus on the entire automation system is about making things easy for the OEM," said Daniel Repp, automation industry manager for Lenze Americas. "This emphasis on easiness is also reflected in a significantly reduced need for wiring, thanks to the direct networking of the Lenze controllers with ready-made software solutions from the Lenze FAST Application Toolbox."
To date, Lenze has concentrated on drive-related safety functions. Now, safety has been completely integrated into the system, enabling projects to be implemented faster because there are no longer differences in the software tools for drive technology and safety. This is particularly beneficial in the implementation of projects where machine operators need to take action within a machine's danger zone. Interface problems and the time-consuming need to become familiar with tools from different manufacturers have become a thing of the past. This uniformity also makes it possible, via EtherCAT, to display diagnostic messages in more detail, such as "supply voltage too low" instead of simply "error."
Aventics' (www.aventics.com) interactive demonstration illustrated practical industry examples of how to use IoT to achieve predictive performance-based maintenance to provide a pneumatic system with 100 percent uptime. The demonstration detected and solved common errors, such as decrease in throughput, mishandling of an object, low system pressure and extensive shock wear. By using the Aventics Smart Pneumatics Monitor, data from sensors can be analyzed and turned into information. It can then be viewed locally via web server, uploaded to the cloud or sent to any part of the enterprise network. Attendees were able to visit the Aventics booth during PACK EXPO Las Vegas and experience the interactive display on their mobile devices.
PACK EXPO Las Vegas visitors had the opportunity to watch a demonstration of the fundamental differences between powering a belt conveyor with Van der Graaf's drum motor (9) versus a conventional drive system.
"Comparison of the external motor and gearbox to that of the drum motor measures the efficiencies and the electrical savings as a result of the comparison," explained Rick Zander, business development manager at Van der Graaf. At the Vegas demo, the external motor was mated to a 90-degree gearbox, which was then powered to the conveyor.
According to Alex Kanaris, president of Van der Graaf for the United States and Canada, the advantage of Van der Graaf's design is the way the electric motor is coupled to the gearbox. "As you can see, they're inline," said Kanaris, "so the rotor is inline with the gearbox." The gearbox has losses, but because it's inline, the losses are only 2 percent per stage. "Since this particular gearbox is only a two-stage gear-reduction unit, we have a loss of 4 percent. And that makes our drive 96 percent mechanically efficient," Kanaris added.
Zander demonstrated a comparison between the external conventional motor and Van der Graaf's drum motor in a real-life application on a conveyor belt. To make it a fair comparison, he loaded both drives equally to see how many watts they consume and how much load they experience. As a result, the test unit/system was able to measure the amount of dollars saved by operating a drum motor versus a conventional arrangement.
The drum motor consumed 576 watts to 577 watts of power, versus 721 watts on the conventional drive. "This translates into load," said Zander. "The conventional motor is seeing a 22 percent to 23 percent amount of load. The drum motor is only 12 percent. This is for the same comparable amount of torque the motor is producing." In the example, the drum motor costs $612 per year to run versus $755 for the conventional motor and gearbox.
During the demo, Kanaris increased the torque to 125 ft.-lb. at 47 percent load on the conventional motor and gearbox. When he used the same specs on the drum motor, it was using 658-660 versus more than 800 watts of power on the conventional systems. "When we translate that into amount of load, we can see the drum motor is only being loaded at 43 percent, where the conventional motor is overloaded 100 percent," he said. The dollar savings increased from roughly $152 to $162 per year.
Energy savings, longer life, space saving and the safety benefits of less moving parts are associated with Van der Graaf drum motors, concluded Zander.
Emerson Automation Solutions demonstrated several technologies that can help packaging lines gain flexibility by accommodating numerous package sizes and complexities, all while reducing waste and improving product quality. Consumers are demanding more product variety and packaging convenience. In response to such demands, Emerson demonstrated several products that can help, ranging from connectivity to safety control.
Emerson's ASCO G3 Fieldbus Electronics is a distributable electronic platform that offers easy access to connections for enhanced control of pneumatic actuators across all bottling and packaging processes. It is a modular system that plugs together via mechanical clips for easy assembly and field changes without dismantling the entire manifold. Couple the G3 fieldbus electronics with the Emerson ASCO Numatics 503 Series Zoned Safety Manifold, and it simplifies the design of a redundant pneumatic safety circuit with a manifold system that can be configured to shut down air and power only to the group of valves that controls the machine's motion in the operator's vicinity, while the rest of the machine remains in operation. This reduces operator risk and protects packaging line assets.
Emerson's SolaHD Power Quality product removes limitations in the power architecture by allowing machine designers and operators to safely put power where they need it. These power supplies can be mounted directly on a machine, freeing packing lines from design constraints and eliminating the complexity and cost of unnecessary enclosures and excess wiring. The SolaHD SDU AC - A Series DIM Rail UPS System is an uninterruptible power supply that helps packaging lines maintain maximum output levels by delivering protection from damaging impulses and power interruptions to microprocessor-based devices. The technology provides immediate backup AC for up to four minutes so that processes can safely continue or be intelligently shut down for faster recovery and minimal losses.
And, for connectivity, Emerson's Micro Motion Smart Meter Verification (SMV) provides real-time insight into machine and process performance via diagnostic software that verifies Coriolis meter performance and integrity without having to stop operations. Elsewhere in the broad Emerson product portfolio, the Rosemount Wireless THUM adapter and gateway receiver provide Ethernet/IP access to flow, line temperature, density and even gas void fraction information.
Emerson also showed off technologies that minimize waste and contamination by effectively sealing and detecting leakage in containers. But one of the most interesting demonstrations was the use of Emerson's Branson spin-welding technology used to create a breakthrough cap design for the Karma Wellness Water bottle.
Boosting productivity and efficiency was a key theme for Bosch Rexroth at PACK EXPO Las Vegas. And what better way to do that than through the IoT Gateway, described as the newest addition to Bosch Rexroth's extensive Industry 4.0 portfolio?
IoT Gateway is a means of networking new and existing machines cost efficiently and optimizing product processes. A combination of control hardware and software for implementing IT applications, it first collects sensor and process data. It then transmits it to MES, cloud applications or local machine state monitoring systems. Finally, it enables process data analysis.
Making packaging machinery data more transparent is what the IoT Gateway does best. Real-time monitoring of process data, such as temperature, pressure, vibration, power consumption or other parameters ensures that production is consistently of high quality. Analysis of specific information simplifies predictive and plannable maintenance of plants and significantly increases machine availability. And, said Hulman, this is a tool that is just as suitable for machines already out there in the field as it is for brand new equipment.
"The IoT Gateway is an information-gathering tool that is above and beyond your normal control architecture," said Hulman. "So you can design and program your machine control architecture and just run that. But, then, in parallel, you can mount an IoT Gateway into your machine and bring in data from mounted sensors. You can bring in fieldbus IO sensors or OPC-UA-based information. You can tie directly into a local machine level controller. Also interesting and unique is that we can tie directly into third-party controllers, such as PLCs from Rockwell or Siemens, for example, and we can extract the global variables out of their controllers and read their parameters. That makes IoT Gateway ideal for an existing machine interface. You leave your complete machine the way it is with your Siemens or Rockwell or Rexroth controller and then, without any change needed in your program, we can reach in and read the variables from those control systems."
Delta Products introduced three new technology platforms and nine new products, all of which support machine builders looking to integrate IIoT as part of a more efficient system (10).
Delta's DIACloud platform is a cloud-based system for remote monitoring, maintenance, data collection and storage, enabling devices to securely communicate as if they are on the same network. Each user can connect and see device status online or through Delta's DIACloud phone app. Routers and gateways connect legacy and non-Delta devices to the platform, while monitoring is simplified with SMS and email alerts. Delta has patents on technology for authentication, authorization and data encryption that ensure the device is secure end to end.
Delta has also expanded its connectivity options to include Ethernet/IP at the platform level. Recent additions of E/IP have been made to the company's AS300 series compact modular midrange PLC, the DVPES2-E series PLC, the AH500 advanced CPU, and the new AH10EMC integrated EtherCAT motion and PLC CPU for the AH500 series midrange rack PLC. This supports system configuration when combined with other Delta industrial automation technology and increases connectivity with other automation devices.
Interoll's new generation of motors with fully modular synchronous and asynchronous designs are engineered for high performance and longevity, and to meet stringent hygiene requirements. This modular platform strategy will be used initially with all asynchronous and synchronous motor types with a 3.21-in. diameter, and it will be expanded to the entire product range in the future. Thanks to its modular flexibility, the new drive generation makes it significantly easier to plan and implement highly efficient and user-specific material-handling solutions.
"All drum motors in the new generation are fitted with the highest degree of IP69k protection, which makes cleaning the facility much faster and easier and also reduces the risk of product contamination in the food processing area. The PTFE-sealing allows high-pressure cleaning with chemicals according to ECOLAB specifications," said Steven Olszanowski, product engineer for drum motors. "If you look at the motor, you won't see any external crevices or areas for product to build up on the outside, so we think it's probably the most hygienic belt drive on the market."
An extended number of gear stages broadens the range of speeds so that one drive solution is sufficient for all current and future uses. Options like encoders, brakes or backstops are available for all motors.
The extended range of variants for the motors from 0.034 HP to 0.570 HP covers all conceivable uses in the food industry, material handling and manufacturing. All motor components are standardized and thoroughly tested, equating to shorter delivery times.
Parker Hannifin was front and center at PACK EXPO, and according to Linda Caron, global product manager for factory automation, as more companies increase their focus on machinery safety, design engineers need a firm understanding of the Machinery Directive and how to comply with the required safety levels.
"The goal of the Machinery Directive 2006/42/EC is to protect people and the environment from accidents caused by all types of machinery. The EN 954-1 standard, previously used to support meeting the directive, has now been superseded by EN ISO 13849-1 and -2 and EN 62061 standards. A significant revision with these standards is the approach that is taken to the assessment of safety-related controls systems, especially with regard to modern electronic control circuits," she said. For more on the Machinery Directive, and how end users and machine builders can achieve required safety levels, see Parker's white paper at pwgo.to/3263.
According to the company, a pneumatic safety exhaust valve can be an easy and cost-effective way to accomplish the Machinery Directive's goals. Parker Hannifin used PACK EXPO to demonstrate a new safety exhaust valve: the P33 valve. This new valve is designed for external monitoring, incorporates series-parallel technology for high flows and fast exhausting response with minimal residual pressure in the fault condition, and has a long life with a B10d of 20,000,000 cycles. The valve provides easy wiring options for use with most brands of controls whether used with a safety relay, programmable safety relay or high-end safety PLC.
"The faster the machine can stop, the closer an OEM or end user can install the guards, light curtains or other presence-sensing devices. Stickiness of valves is one of the biggest variable factors in stopping time, as related to the valve's exhaust flow capability. Parker utilizes a patented series-parallel flow design that incorporates the best of both series and parallel arrangements to maximize safety," Caron said. "Essentially, the two valve elements are arranged in such a way that air from inlet to outlet must go through both valves in series, but the flow path from outlet to exhaust is in parallel. The cross-flow technology ensures that both valve elements [redundant design] must shift to supply air downstream, and, if either valve element is out of position with the other, the downstream air will be dumped to exhaust in parallel. This arrangement allows higher exhaust flow capability and ensures very low residual pressure during a fault, thus eliminating the danger of residual energy making its way into the machine."
PACK EXPO Las Vegas showcased packaging solutions that cater to the demands of the e-commerce market. To learn about how packaging companies are helping food and beverage manufacturers take advantage of the e-commerce boom, please read "E-commerce taking off."
To learn about how robotics are playing an essential role in packaging, please read "Robots continue to grow in packaging."
At PACK EXPO Las Vegas, the Cold Pressure Council discussed the benefits of food and beverage companies earning its high pressure processing (HPP) certification. To learn about the HPP certification program, please read "Cold Pressure Council offers high pressure processing certification."
Companies in this article
Videos from VDG (Van der Graaf)