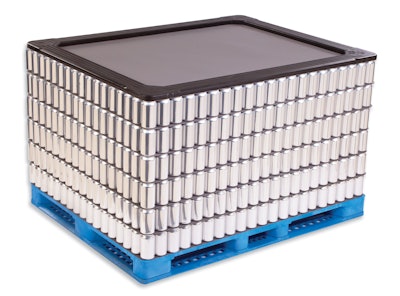 When combined with the company's divider sheets and top frames, the NovaLock provides maximum product protection and load stability for unitized loads.  The full system of plastic pallets, frames and divider sheets are 100% recyclable at the end of their service life.
Featuring double-wall construction, the system provides high impact resistance to reduce the risk of pallet damage, especially from fork tines. If the pallet deck and stringer bottom separate during use, the unique lock-together design enables the pallet to snap back together under the weight of the load, without manual intervention.
NovaLock is a lightweight, durable, and impact-resistant pallet that is dimensionally consistent and compatible with many palletizers, depalletizers, automatic strapping/banding systems and conveyers, as well as the market's existing pallet offerings. Additional benefits include:  flat deck to reduce risk of can damage; beveled bottom stringer for improved hand truck access; full fork truck and hand truck access, from any side; optional food grade material available.
The 44-in. x 56-in. NovaLock is injection foam molded in high-density polyethylene plastic. Its flow-through rib design offers exceptional cleanability and is compatible with various pallet-washing sy
 
Companies in this article