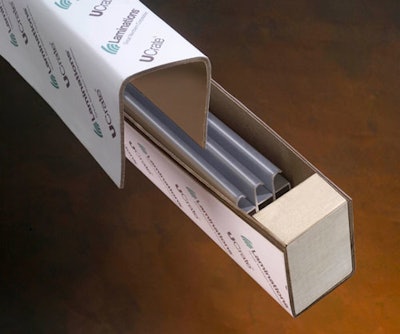 Throughout the four days of PACK EXPO, eco-friendly materials and processes have been a frequent site, whether the subject is packaging or machinery. Sustainability also is present in the shipping materials on display.
One such example is at the
Laminations
booth, where the company is introducing a protective packaging option, which it is marketing under the UCrate® brand. The product is part of the VBoard family of sustainable laminated paperboard products, which are made with 100% recyclable materials.
Laminations is part of Great Northern Corp.'s Specialty Group.
Bill Faster, vice president of sales at Laminations, explained during a booth visit that UCrate consists of seamless U-shaped channels that fit snugly together to create a sturdy, environmentally friendly way to ship packaged goods such as tubular products and glass products.
The exterior surface of the U-shaped channel, Faster added, provides plenty of branding billboard.
UCrate is lighter than wood and avoids wood's bug-stamping export issues. Faster also mentioned that UCrate offers impact resistance and scuff protection, as well as easy product top-loading and substantial beam strength without sacrificing shock absorption capabilities. Therefore, he added, savings are possible in labor, freight, and space.