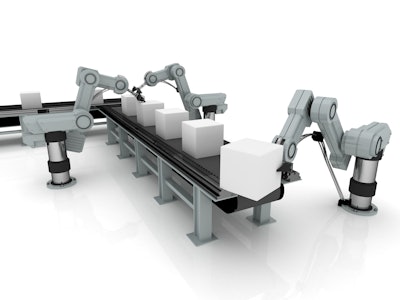 The global servomotors and drives market was valued at approximately US$9 billion in 2014 and is expected to surpass US$12 billion by the end of 2019. Between 2019 and 2029, the market is forecast to grow at aCAGR of roughly 8%, reaching a global value ofapproximately US$28 billion by the end of 2029. These stats and others are part of a new report, Global Market Study on Servo Motors and Drives: 'Automation' to Augment Deployment, from Persistence Market Research.
According to the report, by application, the robotics segment is likely to hold a significant share across the globe due to the unprecedented developments in the robotics industry and heavy adoption of robotic techniques in various end-use industries. The printing and packaging equipment segment will also show a decent share hold over the market and is set to register a healthy growth over the forecast period. Moreover, in the food and beverage industry, servomotors and drives are playing a vital role in accurately packaging products. These motors are also gaining healthy traction in other industries such as pulp and paper, and textile, among others.
By technology, the report indicates that the market is segmented into single-axis and multi-axis servo systems, of which, the single-axis servo systems segment is expected to attract end users and is likely to witness more traction. The reasonable cost and efficient performance of single-axis servo systems is likely to play a pivotal role in their substantial growth.
By product type, the market is segmented into linear servomotors and rotary servomotors. Both are expected to have nearly-equal sales, with linear servomotors gaining a slight edge in market share. Linear servomotors are manufactured by several manufacturers, providing customers with a range of options. Because of this, they have slightly more sales across the global market. Moreover, linear servomotors and drives are used for repetitive operations such as assembly and arrangement on XY tables, CNC machines, etc.
By motor configuration, the market is segmented into AC and DC servomotors. AC servomotors and drives are further categorized into industrial type and asynchronous type, while DC servomotors are categorized into brushless DC motors, separately-excited DC motors, and permanent-magnet DC motors. Globally, AC servomotors are more likely to be preferred due to their ability to operate with the AC current as well as pick up light and heavy loads. Almost three-quarters of the market is estimated to be held by AC servomotors and drives across the globe. Meanwhile, synchronous-type AC motors are expected to be the top choice of customers among other servomotor offerings. In the DC market, all three sub-segments are expected to attract target customers.
By rated power capacity, the report says explains that the market is segmented into 400-750 W, 750 W-1 kW, 1-5 kW, 5-15 kW, 15-50 kW, and 50-100 kW. The demand for these products depends on end-user requirements, although the 750-1Kw segment is expected to remain the paramount share holder in the market over the forecast period.
By region, the market is segmented into six regions: North America, Latin America, Europe, East Asia, South Asia, and Middle East & Africa. In these regions, the European market is estimated to grow with a noteworthy share in the market from 2019 to 2029. However, East Asia & South Asia regions are expected to grow with significant collective share throughout the forecast period. Moreover, the North America region is expected to account for a nearly 10% share in the market, owing to the rising awareness of the end user toward accuracy and precision, coupled with the factory automation.