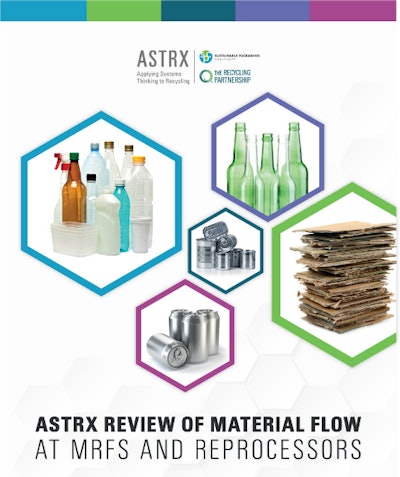 ASTRX (Applying Systems Thinking to Recycling), a joint project of The Sustainable Packaging Coalition and The Recycling Partnership, has released The ASTRX Review of Material Flow at MRFs and Reprocessors. The report investigates how plastic, paper, glass, aluminum, carton, and steel packaging move through two critical pieces of the circular economy: material recovery facilities (MRFs) and reprocessors.

The objective of the study was to learn whether there are packaging types, materials, or contaminants that present significant challenges for MRFs and reprocessors, where specifically within the system they cause problems, and why. The ASTRX team conducted interviews with MRFs across the U.S., plastics reclaimers, glass beneficiators, paper mills, aluminum mills, and a steel broker.

"We hear a lot that certain types of packaging create problems for MRFs or reprocessors, but sometimes issues only occur sporadically or only in certain regions," says Trina Matta, Senior Manager, Sustainable Packaging Coalition. "We wanted to know what was just a problem for a few facilities and what was truly creating a burden on the recycling system. Our research identifies areas that are persistent, challenging problems in need of an intervention that could help the recycling system be more successful."

Some of the top takeaways for brand owners:
Brand owners can help MRFs fund investments to assist in managing flexible films.
Consider adding a How2Recycle® label on packaging to discourage contamination.
Create packaging that can successfully navigate the recycling system.
Purchase recycled content for packaging materials and durable goods to the extent possible.
Be careful with shrink sleeves.
Paper and aluminum design guides are needed.
"Recycling is not just putting a bottle, can, carton, or box in a curbside cart, it's a system that provides raw materials to a complex manufacturing process," says Dylan de Thomas, VP of Industry Collaboration for The Recycling Partnership. "We wanted to provide a critical feedback loop from the facilities that are sorting and reprocessing the goods we put in recycling carts and bins across the country to the companies that are producing an increasingly complex packaging stream."

Each section discusses findings from each material group, market characteristics of each material, information about how that material fares at the MRF and at the reprocessor, and recommendations for how to improve the recyclability of each material type.

The report also includes downloadable worksheets, a recording of a webinar discussing the report findings, and more. A copy is available for download here.