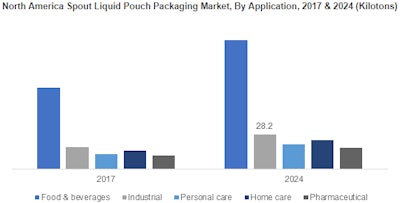 Walk through the aisles of your favorite grocery store and you're likely to spot ever-more varieties of flexible pouches containing everything from baby foods to household cleaners to automotive products.
According to Global Market Insights' new report, Spout & Non-Spout Liquid Pouch Packaging Market, this market will rise at an impressive 7.5% CAGR and surpass $10 billion by 2024.
Behind the growth in the non-spouted category are the following consumer convenience factors:
• The necessity for lightweight and easy-to-carry products, particularly among travelers and tourists
• Ease of consumption
• Rapid urbanization and busier lifestyles enhancing the processed food demand
• Effective storage of high-viscous as well as low-viscous fluids including juices, lubricants and oils, shampoo, and detergents
• Zero leakage and puncture-resistance
• Inclination towards eco-friendly materials along with favorable government regulations on sustainable packaging innovations
• Shifting trend towards raw material cost reduction
The report cites raw material cost variations due to fluctuating petrochemical prices as a growth deterrent.
Meanwhile, GMI predicts the spouted liquid pouch packaging market will witness CAGR above 6.5% through 2024. No spillage along with high-protection layering are among major drivers in food and beverage, pharmaceutical, and industrial applications for these pouches.
Among the more notable overall report findings were the following:
• Non-spout liquid pouch packaging market dominates the industry share
• Extensive durability through flavor retention, nutritional value, and freshness maintenance are substantial positive pouch properties
• The 200-mL size dominates spout liquid pouch packaging market share.
• Rising penetration in personal care and home care segments particularly for soaps and detergents
• Three-layer laminates accounted for over 45% in the spout liquid pouch packaging market in 2017