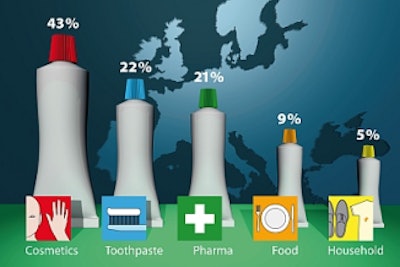 A recent article on the website
PackagingEurope.com
, quotes Gregor Spengler, secretary general of European Tube Manufacturer's Association (ETMA).
"One important reason for the comparatively small fall is the versatility of the tube. This makes it the ideal packaging material for many markets and therefore better able to absorb economic fluctuations. It also helps, of course, that tubes are mainly marketed in consumer-orientated sectors where the crisis is not quite so pronounced…"
The cosmetics market accounts for 43% of the tubes used in Europe.
"The predominant revenue drivers here are hair colorants and personal care products for skin and hair. The most important tube material is plastic, followed by aluminum and laminates.
The pharma market for tubes (21%) trails right behind toothpaste (22%). Aluminum tubes, with superior barrier properties, are the choice for pharma. Laminates for toothpaste. Growth in the pharma market is expected to come from the aging population across Europe.
Food accounts for 9% of tube use in Europe, including mayonnaise, mustard and ketchup as well as butter, cheese products and fish pastes. Convenience of serving size is a driver here, particularly in single or smaller households.
As we have
discussed before
, this consumer eating habit does not translate to the US where very little food comes in tubes.
Get your daily dose of global packaging trends. Follow me on
Twitter
.