If you're not familiar with Memphis Design by name, you'd likely recognize it by sight. Featuring bold, graphic patterns and retro, clashing color palettes with plenty of neon hues, the '80s design aesthetic is hard to miss.
Design styles are often an indication of, or a reaction to, the times we're living in; Memphis Design is the perfect example of this—both when it first came onto the scene and now.
The 1960s and 1970s were heavily influenced by modern minimalism, which played by the rule "less is more," encouraging clean lines and neutral tones. Tired of this lack of excitement in design, a group of architects and industrial designers in Milan, Italy, responded by doing the exact opposite. Calling themselves the Memphis Group, they rebelled against the wave of understated design with a style centered around vibrant colors and a jumble of geometric shapes, stripes, and bold patterns. Initially coming to life in the form of furniture, the trend soon expanded to art, design, fashion, and popular culture.
---
---
As we've all spent much of the last 18 months stuck within the four walls of our homes, it's no surprise we're seeing a collective yearning for more excitement in design and beyond. Brands are once again embracing more artful trends for their packaging that not only show off their personalities, but also brighten up their customers' days too.

Memphis Design's loud presence may be polarizing, especially when not approached in the right way, but many brands are finding impressive ways to put their own spin on the trend and expertly walk the line between fashionably retro and dated.

Here are six brands doing a great job of bringing back Memphis Design in a modern way, one package at a time.
1. Who Gives a Crap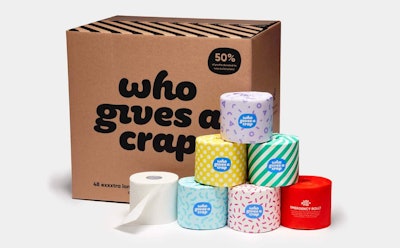 This Australian-founded company's ethos is all about doing things differently, and this rings true for everything from its product to its packaging. While most of us had written off toilet paper as a boring, bland necessity, Who Gives a Crap (WGAC) saw an opportunity to innovate and stir things up, while having a positive social and environmental impact.

While WGAC's intentions are obviously very serious, its brand personality is anything but (does toilet humor ever get old?), and it has adapted Memphis Design to epitomize this in its packaging.
Using bright colors and a mix of patterns consisting of lines, circles, and geometric shapes, it's eye-catching, fun, inviting, and, most importantly, matches the energy of the brand. Plus, all these elements create the perfect backdrop for its logo to really stand out.
2. Temescal Brewing

From its glassware to its beer cans, Oakland, Calif.-based Temescal Brewing plays with multiple elements of Memphis design across all its brand assets. In some instances, it's a more traditional look, using those recognizable clashing patterns and vibrant color choices. In others, they have experimented with cool letterforms infused with Memphis vibes to let the product names and styles speak for themselves.
Temescal's aesthetic is ultimately a perfect example of how versatile Memphis Design can be, even within one brand. Depending on the feel they want to evoke for each product, they adapt the style accordingly. The brand prides itself on being fresh and welcoming, and they cleverly use Memphis Design to send that message.

3. Doritos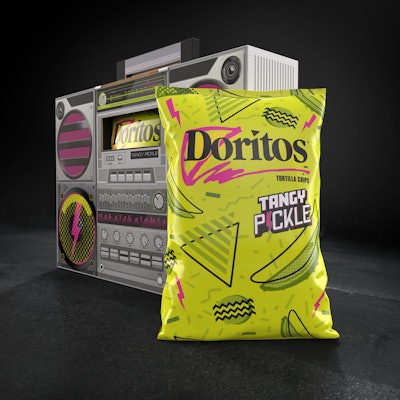 While Doritos obviously has an assortment of different packaging designs, this limited-edition tangy pickle flavor is giving off serious Memphis energy. This may be the most obvious example of Memphis Design on this list, almost transporting you back to the '80s just by looking at it.
From the flashy, geometric shapes and lines to the neon colors, the design is unquestionably in your face, giving off the intensity Memphis Design is known for. While this packaging design would likely be a bit over the top for many, in this case, it's a perfect representation of the intense flavor of the chips inside—stimulating the senses just as much as the taste!

4. Halo Top Ice Cream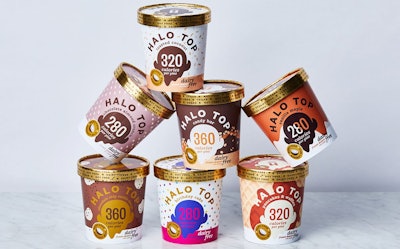 Halo Top is a game changer in the ice cream category. Much like the Memphis Group, the brand wanted to rebel against something that felt stagnant. In this case, that thing was the idea that ice cream could and should only be enjoyed in small doses.

While a bit on the more subtle side, the brand's minimalistic use of Memphis Design aims to evoke the same pleasure and joy that comes with eating a whole pint of ice cream in one sitting. Just by looking at the variety of colors, shapes, and strokes used cleverly for each flavor, you have an idea of what the product will taste like. It feels a bit extravagant without being overly so, and this clever use of miniature shapes and lines encompass the Memphis feel without clashing with the essence of the brand.

5. Calexo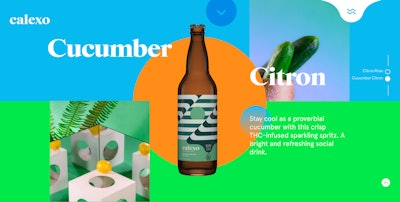 California-based Calexo makes sparkling cannabis beverages designed to "bring a smile to your mind." This is perfectly embodied in its packaging, which is full of vibrant colors and graphic geometric patterns reminiscent of the fresh nature of the Memphis aesthetic. But the smiles don't stop there, as the brand has extended the design right through its suite of brand assets, from social media to its website.

Memphis design can (intentionally) feel quite spontaneous and chaotic and can sometimes look out of place randomly applied to a packaging design. However, by embracing it across all touchpoints of its brand, Calexo maintains brand consistency and recognizability—which are vital attributes for building trust and long-lasting connections with customers.
6. Mighty Gum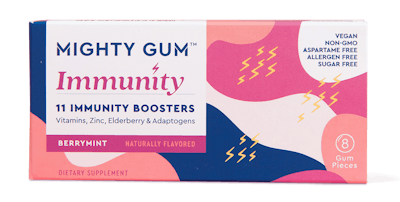 Mighty Gum's packaging shakes things up with a softer take on classic Memphis Design. Instead of straight lines, rigid geometric patterns, and bright colors, the brand mixes things up by incorporating more organic shapes, and muted and restrained colors, all overlaid with tiny zigzag illustrations.
This is a great example of reworking a trend to best suit your brand ethos and better appeal to your target audience. The way in which Mighty Gum has applied Memphis Design helps the brand differentiate itself from other gums on the market, without distancing itself from its ideal customers. And following the crowd was never what Memphis was about anyway!

---
---
There's a common theme that all these brands share, and that's the desire to be known for doing things a little differently. If you're also looking to help your products stand out from the crowd, then Memphis may be the design style for you. But, as is the case with any packaging design, whatever you choose should be reflective of your personality, values, and goals as a brand. Feel free to make Memphis entirely your own—after all, the style itself was born out of breaking the rules!
Tristan Le Breton is Creative Director of 99designs by Vistaprint.
Companies in this article