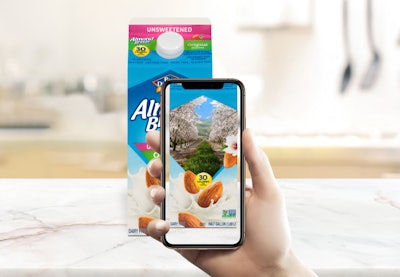 Consumers are increasingly looking to food and beverage brands to supply them with greater transparency on the origins of the products they purchase—especially in categories such as plant-based, organic, and all-natural brands. With this in mind, Blue Diamond Growers reached out to immersive creative and production studio Tactic to develop an on-pack Augmented Reality experience for its Almond Breeze brand that would both educate and entertain consumers of their non-dairy milk, yogurt, and creamer products.
"We reached out to Tactic and started engaging with them in 2019," shares Almond Breeze Group Marketing Manager Micah Keith. "We saw how some brands were using AR technology to tell their own stories, and we felt this would be a great way to engage our consumers to tell the story of our cooperative of more than 3,000 almond growers and our delicious almond milk products.
---
---
"We wanted to give consumers an inside look at the places, people, and work that make Almond Breeze one of the most trusted brands in non-dairy milk products. One of our main goals was to help consumers that already purchase us to understand us even more, and with this experience, we are hoping our consumers will fall even more in love with us and get to know us even better."
According to Tactic President Peter Oberdorfer, the process of developing and executing a branded AR experience begins with a consultation with the company's brand managers to align with any existing campaigns and to decide on points of emphasis. "In the case of Blue Diamond, they were looking for a way to help activate the store shelves where their products exist, and tell the story of how their cooperative growers in California make the product," he explains. "We thought that a storybook/pop-up motif inside the carton would be a great experience for the consumer and an easy, shorthand way of conveying this message with visuals and an audio narration. The team at Almond Breeze loved the initial concepts, and we worked with them to develop a narrative that was in line with their product."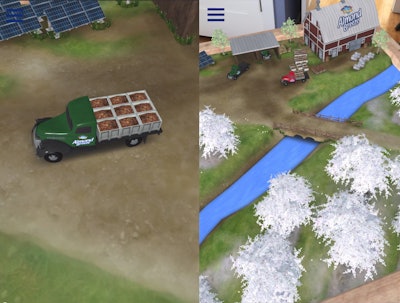 Tactic's script, divided into chapters, tells a farm-to-table story about the Blue Diamond cooperative of growers, as well as Almond Breeze's ingredients and packaging. "We tried to boil down the essence of what the brand is about in a series of key scenes that would really convey the hard work, love, and care these families put into delivering the final product," Oberdorfer says. Tactic also suggested a visual menu of alternating recipes that could be updated dynamically from season to season, as needed.
Unlike many existing on-pack AR experiences, consumers do not have to download an app to access the AR content from Almond Breeze. Using the webAR library from platform developer 8th Wall, Tactic developed the AR experience to be accessible from a dedicated website, ar.almondbreeze.com, which opens up when users point their smartphone at a QR code on the packaging. Once activated, the AR experience reveals a series of animated dioramas that appear within the package, though a portal that slides out from the package's signature diamond-shaped logo.
---
---
To kick off the launch of the web-based AR experience in March 2021, Almond Breeze collaborated with Tactic on an in-store fridge execution. Triggered by a QR code featured on Almond Breeze signage on store refrigerators, the AR experience launched a full diorama of an almond farm on any open space in front of the user. Featuring a farm with a barn, animated delivery trucks, a field of blossoming almond trees, beehives, a brook, and a roadway, the experience allowed users to freely move around the AR scene at their leisure. The miniature AR farm can now also be accessed by users without a QR code or package, by visiting the dedicated website on their smartphone.
According to Almond Breeze's Keith, since the launch of the AR experience, the company has had almost 2,500 session startups, with a progressive growth of almost 50% more sessions each month. "Consumers are engaging with the AR experience for 1:18 seconds per view, which is certainly at the higher end of engagement time across all mediums in which we reach our loyal buyers," he says. "Additionally, we've had almost 20% of AR users come back to the experience and try it again, which allows us to both entertain our consumers and continue to share our brand message and promote brand transparency."
---
PACK EXPO Las Vegas and Healthcare Packaging EXPO (Sept. 27-29, Las Vegas Convention Center) will reunite the packaging and processing community. With over 1400 exhibitors, no other event in 2021 will bring together a more comprehensive gathering of suppliers offering new products, technologies, and solutions. Attendee registration is now open.