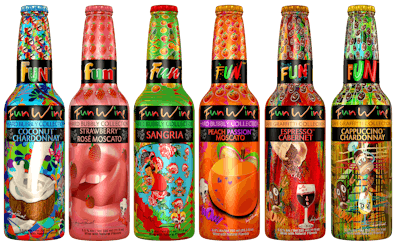 With packaging graphics bursting with vibrantly-colored patterns and illustrations inspired by Miami's art, fashion, and music culture and a unique low-ABV (alcohol by volume), low-calorie, lightly-carbonated flavored wine product in three flavors, Fun Wine has been in a category of its own since it first launched in December 2014. Says the company, Fun Wine was founded on the belief that wine should be fun and not complicated. It adds, "With that in mind, and to break through the traditional wine mentality, we decided to rethink wine by focusing on three main pillars: Flavor, Packaging & Price."
According to Fun Wine founder & CEO Joe Peleg, Fun Wine was among the first to deliver a democratized, better-for-you wine brand and was the first to use aluminum cans. "We felt the U.S. market at the time was lacking a brand that could have mass appeal and be accessible to people from all walks of life," he says. "We were the first brand to come out with cans, and we were coined as crazy, and the market tried to intimidate us. Here we are, years later, on the shelves with multiple 'like' brands that didn't take us seriously.
"There is now an overwhelming demand for low-ABV wine and beverages. People are eating healthier and looking to pair their food with a beverage that mirrors that. We at Fun Wine wanted to create a new formulation with an ingredient that has less sugar and has never been done before."
---
See it Live at PACK EXPO Connects Nov. 9-13: Looking for a new container design for your product? Find out what's available at PACK EXPO Connects. Preview the Showroom Here.
---
Fun Wine launched with three varieties—Coconut Chardonnay, Strawberry Rosé Moscato, and Sangria—in a 750-mL glass bottle and a 250-mL aluminum can. Packaging for each flavor dazzles, with full-body graphics designed by renowned Miami graffiti and pop artist, Miguel Paredes. Says Fun Wine, "Our packaging is bold, iconic, disruptive, and award winning. We are conversation-starters and Instagram-worthy, like drinking out of a piece of art."
Now the company has gone one step further, launching a cottle design that was two years in the making and driven by the company's desire to push category boundaries. "We're innovators at heart. Bold by Nature. Persistence runs in our DNA," says Peleg. "Our mission is to challenge and innovate the beverage industry. After we introduced the first wine in a can, we thought to ourselves, 'Now that everyone is doing that, what can we do to be different?' That's when we decided to use the aluminum bottle and be once again the pioneers with this packaging."
When Fun Wine began the project, Peleg says, there were no bottling companies making an aluminum bottle suitable for wine. After more than a year of testing and working hand in hand with a proprietary bottle converter, Fun Wines and the supplier were able to come up with a can lining and bottle suitable for the chemical characteristics of the product.
---
---
The resulting cottle is a 330-mL stock bottle adapted for Fun Wine's product formulation. Peleg says the size was chosen because it most closely resembles Fun Wine's 750-mL bottle, it's a popular size for wine in a can, and it can be considered a single serving.
While the body of the cottle has a Burgundy-bottle shape, with sloping shoulders, the neck of the bottle looks more like that of a glass beer bottle, with a metal crown closure completing the effect. The package is being used to launch Fun Wine's new Hard Bubbly collection, which includes the brands' three existing flavors along with three new varieties, all of which use what Fun Wines says is an ingredient never seen before in the industry: monk fruit.
For the three new flavors—Peach Passion Moscato, Cappuccino Chardonnay, and Espresso Cabernet—Miami artist Paredes has designed custom artwork that continues the Miami vibe established with original product line. The lively graphics are direct-printed in six colors by the can converter.
---
See it Live at PACK EXPO Connects Nov. 9-13: Want to learn more about innovations in packaging materials? Join us at PACK EXPO Connects to hear from a range of suppliers. Preview the Showroom Here.
---
All six Fun Wine flavors contain 59 calories per 5-oz pour, which the company says is less than half the calorie content of traditional wine and the lowest globally for a 5.5% ABV wine product. The beverages are produced with all-natural, gluten-free ingredients and are manufactured in a vegan-certified plant in the European Union. At presstime, the new collection was scheduled to be released in the U.S. in Q4-2020 to more than 150 new and existing Fun Wine wholesalers. The company adds that in 2021, it plans to continue to expand its U.S. and global footprint.