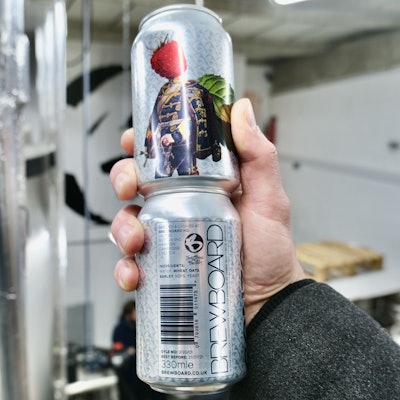 The brewery will implement highly customized campaigns across Cambridge and East Anglia thanks to the low-volume capabilities of the electrostatic drop-on-demand Cyclone digital printing technology from Tonejet. The cans will be produced at Tonejet's facility in Melbourn, Hertfordshire, where they maintain a can printing line for demonstration production runs.
BrewBoard prides itself on producing craft beers with distinctive branding. Each of their brews is distinguishable by its packaging, with unique off-the-wall designs representing the various brews. This makes it a perfect fit for Tonejet, which offers a minimum quantity as low as one, thus giving the brewery an edge in the highly competitive world of craft beer.
"Having the flexibility to do small runs will enable us to win business that we might otherwise have not been able to," says BrewBoard Co-Founder Oliver Pugh. "It reduces lead times and makes us more competitive. We're very lucky to be located so close to Tonejet. It was a no-brainer to collaborate with them and we are only at the beginning of our digital journey."
Tonejet's four-color digital printing solution also allows companies to package their products in an environmentally friendly way because, unlike cans that are customized by way of shrink sleeve or pressure-sensitive labels, the digitally printed cans are 100% recyclable. Not to mention that the process uses 90% less ink than conventional inkjet systems, according to Tonejet. BrewBoard has already manufactured thousands of cans with Tonejet and plans to produce many more as part of custom, short-term marketing campaigns. "It's been a pleasure to work with Tonejet, who have been both professional and flexible in their approach, qualities that are important to a small business like BrewBoard," adds Pugh.
Companies in this article