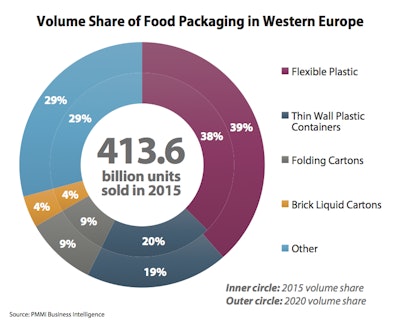 While a trend to smaller households is contributing to smaller size offerings in food packaging, a major contributor to package downsizing is transportation and raw materials costs.

Flexible plastic will continue to grow for confectionary, specifically chocolate treats in Turkey. And stand up pouches will see robust growth (6.5% compound annual growth rate through 2020).

Both metal cans and brick liquid cartons are projected to decline, particularly with consumer perceptions that processed meat and fruit in metal cans is less healthy.

Euromonitor International, who produced the study for PMMI Business Intelligence, compiles data points and qualitative analysis for 80 countries. Markets include Beauty and Personal Care, Beverages, Dog and Cat Food, Home Care and Packaged Food. Both primary and secondary retail packages are studied, including internet sales.
Source: PMMI Business Intelligence, Global Packaging Trends Report 2017, produced by Euromonitor and sponsored by leading packaging associations PMMI, Australian Packaging and Processing Machinery Association, Italian Manufacturers of Automatic Packing and Packaging Machinery, and the Processing & Packaging Machinery Trade Association.
Download the entire 95-page study here: www.pmmi.org/research/