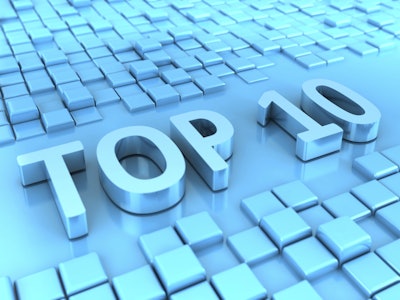 Company names such as Boston Scientific, Walmart, Metronic, Novartis, AstraZeneca and Eli Lilly caught the attention of HealthcarePackaging.com readers in our annual list of Top 10 most-read articles. Packaging application stories in Africa and India garnered considerable interest, indicating the global significance of pharmaceutical packaging, both in facility flexibility and in terms of the temperature-sensitive and logistics challenges.
In examining the medical device front, readers continue to seek information on using packaging in innovative ways not just to improve patient adherence/compliance, but also to make packaging easier for medical professionals to use, particularly in surgical environments.
Here then is the list of 2015's Top 10 most-read HealthcarePackaging.com editorial content, from 10 to one:
10. Voice of Customer Inputs Key to Catheter Tray and Lid Combination
Boston Scientific's ACUITY Pro® lead delivery system, designed with and supplied by Nelipak Healthcare Packaging, delivers numerous benefits, including a knurling pattern of groves in the tray.
9. Adherence Packaging Battles HIV/AIDS in Africa, India
Designed to help prevent the spread of HIV/AIDS in sub-Saharan Africa and India, the MEMSCap smart electronic medication packaging system from MeadWestvaco tracks each time the medication bottle is opened.
8. Breaking the Glass Barrier in Aseptic Filling of Parenterals
Advanced ADVASEPT™ technology from Catalent Pharma Solutions eliminates glass particulates, surface delamination, reduces foreign particulates, breakage and container weight for transportation and disposal.
7. Walmart First to Adopt Next-Generation Compliance/Adherence Package
The retail giant announced plans to incorporate Keystone Folding Box Co.'s Ecoslide-RX 2.0 compliance package into its pharmacies nationwide. The pack eases opening, is intuitive, and requires minimal effort to unlock. Enhanced graphics make the pack easy to understand for seniors.
6. Pharmaceutical Market Forecasts to 2020
This story detailed two separate reports, one from MarketsandMarkets that predicted the pharmaceutical packaging market would be worth $80 billion by 2020, and another report from Persistence Market Research focusing on the global markets for pharmaceutical glass packaging.
5. Medtronic's New TAVI System Wins DuPont Award
Medtronic's EnVeo™ R next-generation Transcatheter Aortic Valve Implantation system brings user functionality, containment, protection, preservation, and communication benefits for surgical users, earning a Gold Award and honors for Excellence in Technological Advancement and Enhanced User Experience at the 2015 DuPont Awards for Packaging Innovation competition.
4. AstraZeneca, Eli Lilly, Novartis Win HCPC Honors
The most innovative pharmaceutical packages that improve patient adherence were announced by the Healthcare Compliance Packaging Council during its 2015 Compliance Packages of the Year Competition. Packs from MWV and PCI stood out for major pharmaceutical manufacturers.
3. What Are World's Most Reputable Pharmaceutical Companies?
This news story from the Reputation Institute's Pharma RepTrak® 2015 report drew considerable reader interest. Twelve firms were noted for their global consumer perceptions based on factors including innovation, governance and citizenship.
2. Novartis Benefits From Flexible Pharmaceutical Filling Line
A Novartis facility in Cairo, Egypt invested in equipment from Bosch Packaging Technology that provided the flexibility to handle plastic bottles of nasal spray, glass bottles of cough syrup and others. The equipment included a bottle unscrambler, air blowers, a linear piston filling machine, nitrogen flushing, rotary capping machines, a Clean-in-Place system, labeler and cartoning system.
1. Promising Future for Specialty Pharmacies
The most-read online story on HealthcarePackaging.com during 2015 focused on the topic of specialty pharmacies, which represent "the fastest-growing segment of the pharmaceutical market in the U.S.," according to information introducing an Academy of Managed Care Pharmacy webinar. The story defined specialty pharmacies, named the top 10 specialty pharmacies, identified the size of the market, specialty pharmacy trends, and provided a look to the future.
Companies in this article