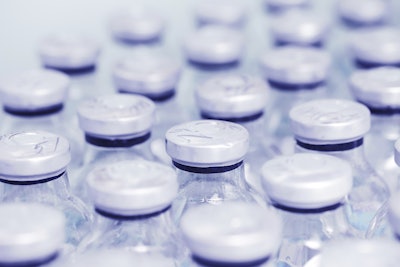 Rising healthcare awareness and continuous innovation and technological developments in both pharmaceutical and medical industries are transforming the healthcare packaging industry, thereby driving the growth of the sterile medical packaging market.
That market is growing due to increasing application of sterile packaging in the pharmaceutical and biological sectors, an aging population, and rising chronic diseases, says MarketsandMarkets' new report, "Sterile Medical Packaging Market by Material (Plastics, Glass, Others), Type (Thermoform trays, Bottles, Vials & Ampoules, Others), Sterilization Methods (Chemical, Radiation, Others), Application (Surgical instruments, Pharmaceutical, Others)—Forecast to 2020," is projected to grow from US$ 26.55 billion in 2015 to US$ 35.07 billion by 2020, at an estimated CAGR of 5.72%.
Growing demand from the healthcare industry also provides an opportunity for further market growth, especially in the emerging Asia-Pacific and Latin American regions. However, maintaining medical packaging integrity can act as a challenge to the growth of the sterile medical packaging market.
The Asia-Pacific region is expected to play a key role in the market for sterile medical packaging, according to the report. It says that on the basis of key regions, the sterile medical packaging market is segmented into
North America, Europe, Asia-Pacific, and the Rest of the World (RoW). The North American region held the largest share among all the regions in 2014.
Chemical methods used for sterilization include ethylene oxide, hydrogen peroxide, and others such as chlorine dioxide. Chemical sterilization is a low-temperature sterilization method used for heat- and moisture-sensitive medical devices. Ethylene oxide (EtO) is most widely used in the chemical sterilization method. EtO is a cost-effective sterilization method used for large loads. Ease of handling, versatility and affordability make it a widely accepted method of sterilization; it is projected to grow at the second-highest CAGR (Compound Annual Growth Rate) during the forecast period.
The scope of the report covers detailed information regarding the major factors influencing the growth of the sterile medical packaging market such as drivers, restraints, challenges, and opportunities. A detailed analysis of the key industry players has been conducted to provide insights into their business overview, products and services, key strategies, new product launches, mergers and acquisitions, partnerships, agreements, joint ventures, and recent developments. Early buyers will receive 10% customization on this report.
The global market for sterile medical packaging is dominated by several large companies in packaging, including Amcor Ltd. (Australia), 3M Co.(U.S.), E. I. Du Pont de Nemours and Co. (U.S.), Bemis Co., Inc. (U.S.), and West Pharmaceutical Services, Inc. (U.S.). Other companies include SteriPack Ltd. (Ireland), Wipak Group (Germany), Placon Corp. (U.S.), Riverside Medical Packaging Co. Ltd. (U.K.), and Oracle Packaging, Inc. (U.S.).