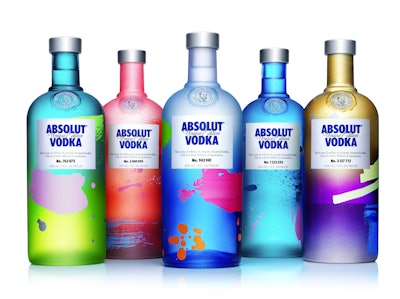 Emerging innovations in packaging—among them the technology behind the Absolut Unique project, opportunities in digital package printing, and initiatives around PET recycling—took center stage at The Packaging Conference 2013, the sixth annual event sponsored by Plastic Technologies, Inc. and consultancy SBA-CCI, Inc. The event was held Feb. 4-6 at The Ritz-Carlton in Atlanta, and was developed to "motivate the audience, stimulate discussions, and introduce packaging innovations not yet released to the public."
The first full-day's agenda covered a range of topics, some very technical in nature and some with more of a marketing bent. The event was promoted being resin-, process-, and platform-neutral; this was evidenced by the speakers, who touched on a range of packaging materials, including glass, metal, and plastic, and on subjects around sustainability and logistics.
Absolut innovation
The day opened with a presentation by Fredrik Källqvist, development manager glass Sweden & Denmark, for Ardagh Group, who walked the 200-plus attendees through the development details of the Absolut Unique decoration project, in which 4 million unique Absolut bottles were created for a special promotion for the vodka maker. "It was a first for Ardagh and the industry," he told the audience. "We were challenged at every step in the process."
The technology developed to create the bottles involved 16 colors, a system of seven spray guns controlled by a PLC program, a number of bottle mixing stages, including a specially designed machine that combined three pallets into one, and software that scrambled the bottle numbers during printing, among others. The end result was a possible 94 quintillion possible combinations, Källqvist noted.
The bottles were sold in more than 80 markets, and the project was one of Absolut's most successful promotions. "The customer trusted Ardagh to do this," said Källqvist. "We were able to convey the passion for the project."
Opportunities in digital
From CL&D Printing, company president Bob Scherer gave a glimpse at the opportunities available through digital package printing, which he revealed will take a leap forward in the next several weeks with the introduction of a 29.5-in.-wide press from HP Indigo. "This is huge in that marketplace," he noted.
In his presentation, Scherer presented a number of applications where the unique capabilities of digital printing have provided both quality and cost benefits. Among them, L'Oreal has used the process to print high-quality labels in runs of 150,000 to 200,000 for children's personal care products, at 80% less cost than traditional printing. Personal care products maker Kiss My Face, with more than 200 SKUs, used digital to bring short runs of new items to market more economically. "Digital was the safe bet for new products," says Sherer. And, in three weeks, the new 29.5-in. technology will be used in the Atlanta area for a special sheetfed paperboard project.
Scherer's advice around digital printing: "The question should be 'How could we?' not 'Why can't we.'"
Recycling as sustainability solution
The late afternoon was filled with three consecutive speakers who discussed the benefits and values of recycling and some of the new initiatives around enhancing recycling opportunities. From the PET Resin Association (PETRA), Ralph Vasami spoke on behalf of North American producers of PET on a new recyclability assessment model that includes testing and evaluation criteria for special-use and innovative resins having a low market presence.
"We believe the PETRA Model will increase both innovation and recyclability testing by focusing on real-market resin performance and the evaluation needs of producers, brand owners, and recyclers," said Vasami, executive director of PETRA. "Confirming the viability of promising resin variants is vital to advancing PET resin science and the use of recycled material."

Moving forward, Vasami told attendees the best way to get more materials into the PET recycling stream will be through industry collaboration. "PET recyclability is a critical path to sustainability," he concluded.
Following Vasami, Holli Whitt, market development manager, Sustainability, for Eastman Chemical Co. discussed a new label consortium that has been formed to address the challenges of recycling PET bottles with full-body shrink-sleeve labels. "Containers with full-body wrap labels as a percent of bale weight has increased," she noted. "This causes a variety of problems in the recycling stream."
The consortium, which has had two formal meetings thus far, includes representatives from the entire value chain. While putting together such a varied group, some of which are competitive entities, "gets complicated pretty quickly," Whitt is hopeful that the collaboration will bring about innovation to streamline the recycling of full-wrap shrink-labeled PET bottles.
Wrapping up the afternoon discussion on recycling, Tom Busard of Plastipak Packaging and chairman of the Association of Postconsumer Plastic Recyclers (APR), spoke on some of the most pressing issues facing recycling. Among them, the use of degradable additives and shrink-sleeve labels.
Of degradable additives, he said: "They are not a good idea. We do not see any good reason to use these additives."
On the issue of shrink-sleeve labels used for PET bottles, Busard noted that nonconforming sleeve labels can cause the reclamation industry as much as $130 million each year. "Sorting equipment has one second or less to determine what material is under the label," he said. "Most cannot."
He expressed concern that the APR had not been included in discussions with the label consortium, but hopes that an open forum being held by APR in March will prove a valuable venue for the exchange of ideas promoting solutions to the problem of full-body shrink labels on PET bottles. "We have to come up with solutions," he noted.
In closing, he quoted Benjamin Franklin, saying: "We must all hang together, or assuredly we shall all hang separately."
Full agenda
The day also featured a number of other speakers. Highlights included:
• Diageo's director of packaging technology, Dick Blanchard, who provided the pros and cons of glass and PET packaging for spirits. In terms of glass technology Blanchard says Diageo is looking for a 15% to 20% reduction in weight, without a loss in strength; in PET, Diageo needs rigid plastic containers for super-premium products, without a weight increase and offering the same economies as glass.
• Srivatsa Ilyer, vice president, finance, planning, and strategy for Braskem America told attendees about "Shale Gas Development and its Impact on Packaging," saying that "production has grown by a factor of five in the last four years." He predicted: "Three- to four-dollar-a-gallon gas is here to stay for the next 30 years."
• Dan Abramowicz, executive vice president of technology and regulatory affairs of Crown Holdings, Inc., demonstrated to the audience the many ways that CPGs can attract consumers to their products on shelf through metal packaging, including unique takes on decoration, shape, and textures.
• Packaging World publisher Joe Angel, who provided attendees with 13 packaging trends to watch out for in 2013, including the rising importance of food safety, the growth in third-party logistics (3PL) suppliers and contract packers, serialization in the pharma market, and workforce issues, among others.
Packaging World was the media sponsor for The Packaging Conference 2013.
Companies in this article