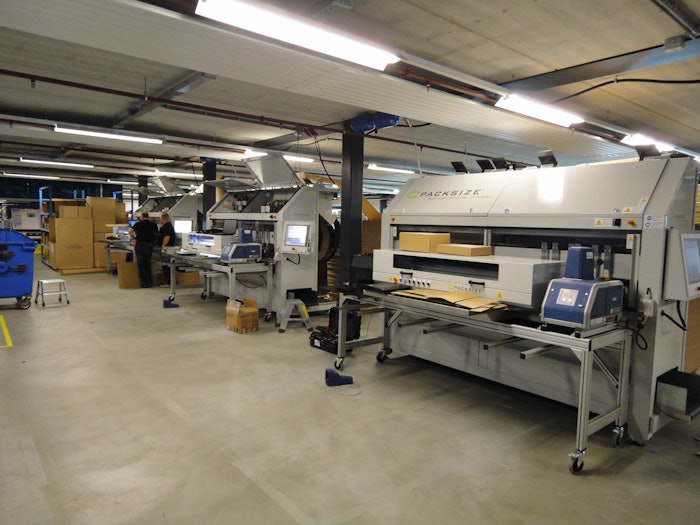 With so many developments in both medical technology and packaging systems, it's easy to overlook corrugated shippers. But that's not at all the case at Boston Scientific Intl.'s European Distribution Center in Kerkrade, Netherlands, where the company ships more than 3,500 boxes containing about 28,000 products each day. These medical devices are shipped globally, with 70% going directly to hospitals and 30% to customer distribution centers.
Making sure the distribution process is efficient and cost-effective is a challenge that the company is meeting with the help of three machines from Packsize Intl. LLC. The equipment utilizes Packsize's On Demand Packaging™, a technology-enabled corrugated box production process that helps Boston Scientific select the most appropriate box size for the medical device to be shipped, then makes the box, with options for quantity, size, and style. That means Boston Scientific no longer has to stock excess box inventory and can make boxes to match shipments on a just-in-time basis.
Before implementing the Packsize system in June 2011, Boston Scientific stocked more than 50 different box sizes that needed to be ordered five months in advance of production. "Our box inventory took up significant warehouse space," says Frank Moonen, director of operations at Boston Scientific, Kerkrade. "And despite this broad inventory, we never had the right-sized box, forcing us to ship a lot of air and additional packaging fillers."
Another problem had to do with shipping in boxes that were too large. "We faced shipping damages and high freight charges as well," Moonen adds.
In seeking a better process, the company's greatest concern was packaging quality. "We need high-quality boxes to ship our most sensitive products," Moonen notes. "The boxes we used were made of very solid cardboard, required no taping, and were characterized by their high stability."
After evaluating several potential solutions, Moonen learned of the Packsize system from Boston Scientific's consulting company Total Logistics. "We tested a number of corrugated qualities as well as box designs," recalls Moonen. "The overall idea behind each of our decisions over the course of the project was to deliver undamaged products to our customers."
Boston Scientific integrated three Packsize converting machines with its Warehouse Management System in Kerkrade. "Now, with each order, the system calculates the perfect box dimension and sends this data to one of the Packsize machines, which then cuts the required box. Another crucial deciding factor for us was that the packaging system we selected met our 'takt time' requirements," says Moonen.
He describes "takt time" as the company's required speed to meet Lean principles and allowing warehouse picking and packaging at a certain speed per hour. "It is important that the machines can deliver boxes according to our internal picking speed," says Moonen. "If that were not possible, then we could not finish orders all of the time. Packsize helped us accomplish our strategic goals by reducing our shipping damages and saving us freight, [paper]board, and storage costs."
To be specific, Moonen says the Packsize process and equipment reduced shipping costs through smaller shipping volumes, delivering 70% in savings. "We decreased shipping damages through perfectly fitted boxes," he says. "And instead of managing inventory for 55 different box sizes, produced separately, we now manage five different carton widths. It's much easier and there's no need to order more inventory every week. We're saving 30 percent on corrugated in both the price of it and the charges for storage. We've had a return on investment in about four months.
"Certainly the Packsize implementation was an important element in our overall operations strategy, and continues to support our advancements toward a leaner one‐piece workflow, not only in Kerkrade, but in other distribution centers around the globe as well."