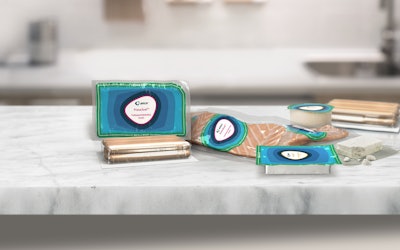 This content was written and submitted by the supplier. It has only been modified to comply with this publication's space and style.
Suitable for fresh and processed meat and fish, as well as hard cheese, the new packaging is heat resistant up to 90°C and is made with low EVOH content without compromising the shelf-life of perishable foods.
Certified as recyclable by Cyclos-HTP, it is recyclable within PE streams* and offers up to 80%** lower carbon footprint compared to existing PA/PE thermoforming films.
Amcor's thermoformable films are highly transparent with a clear gloss to help demonstrate the quality of products to shoppers by creating a tight, wrinkle-free packaging. Ranging from 85 to 200 microns thicknesses with custom-engineered forming, the packaging is puncture and abrasion resistant for increased product protection.
The PrimeSeal™ and DairySeal™ films are now available for customer orders in Europe, Middle East, and Africa.
---
*Countries where recycling for this new packaging is available at scale, according to Cyclos-HTP certificate: Austria, Belgium, Germany, Denmark, Spain, France, Italy, Netherlands, Norway, Portugal, Slovenia.
**Carbon footprint reduction based on an ASSET™ lifecycle assessment. An 80% carbon footprint reduction is based on a cradle-to-grave comparison of a standard in 135µ thermoformable film containing PA vs. Amcor PrimeSeal™ and DairySeal™ Thermoforming Films containing EVOH. The ASSET™ methodology is certified by the Carbon Trust.
Companies in this article