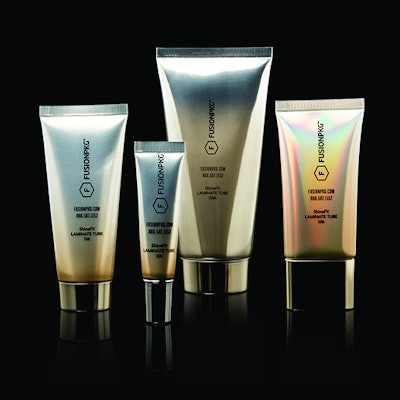 Shine FX builds upon Fusion's beautiful, high-performance stock tube collection, offering a wide variety of vibrant decoration options to provide brands with a luxury aesthetic in a cost effective tube format.
To maximize its brand-building appeal, the Shine FX collection features tubes from Fusion's existing product offerings, including Needle Nose, Flat Oval, Screw Cap and Flip Top Standard Tubes, and Direct Effect Applicators.
For brands seeking the added benefits of airless dispensing, such as precision dosing and near 100% product evacuation, Fusion's Fresh, Poise, Pure and Tru Airless Tube collections can also be customized as part of the Shine FX premium tube collection.
Shine FX Tubes can be customized to meet each brand's desired metallic effect using a variety of film options, including the subtle brilliance of Aluminum Barrier Layer (ABL), highly reflective Coated Aluminum (CAL) and Vacuum Metallized Poly Ethylene (VMPE), and radiant Holographic (HAL) for full-spectrum color effects.
Additional gloss or matte varnish effects and HD printing capabilities -- including gravure, flexography, silkscreen and hot stamp -- allow brands to develop highly customized and eye-catching designs.
Formulas stay protected with added barrier film layers that shield from excess light, moisture, and organic or chemical formula exposure. Shine FX Tubes are available in six different diameter styles -- 19 mm, 22 mm, 35 mm, 40 mm and 50 mm -- and have capacities ranging from 7 ml to 300 ml.
Companies in this article