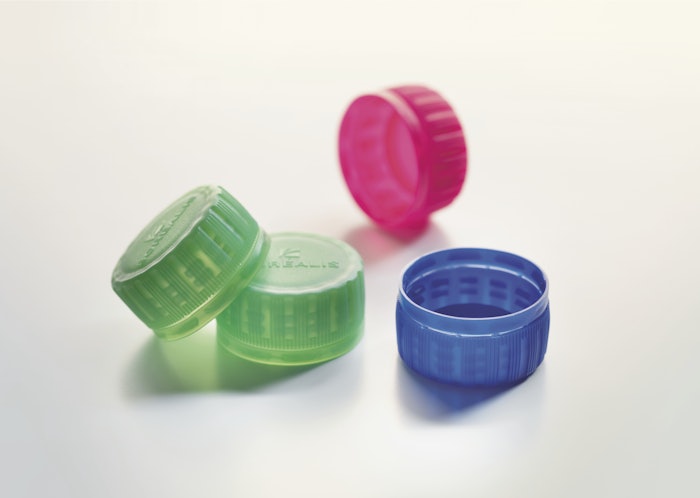 BorPure MB5568 brings a lightweight innovation to caps and closures for carbonated soft drinks, juices, teas and bottled water. The grade was launched in Europe by Borealis in early 2014 and was officially launched in Asia by Borouge in April of this year. Based on Borealis' proprietary Borstar® polyethylene (PE) technology, BorPure MB5568 is designed particularly to complement the industry's widening adoption of lightweight, standard short-neck closures (PCO 1881) that bring savings for the total packaging.
The unique Borstar platform allows the tailoring of PE mechanical and processing properties to match specific application needs without performance compromises, using less material. This advantage is further enhanced by the improved stiffness and Environmental Stress Crack Resistance (ESCR) exhibited by BorPure MB5568, which potentially enables additional cap and closure downgauging with consequent material and production cost savings, as well as contributing to carbon footprint reduction and, therefore, sustainability.
"Cost reduction in bottle production is a key factor in competitiveness for the beverage industry and lowering the volume of material used in caps is a focus element of that initiative," comments Russell Tew, Borealis Marketing Manager, Advanced Packaging and Fibre. "BorPure MB5568 has been developed jointly by Borealis and Borouge to positively aid that objective by allowing converters and brand owners globally to further reduce the amount of plastic, which is contributing further to the cost-reduction initiatives taking place in the beverage industry."
Also of primary importance to the consumer is the 'as bottled' taste of the product.  BorPure MB5568, as all BorPure grades, offers excellent organoleptic properties and has no taste or odour influence on bottle contents – a parameter monitored to ensure consistent batch-to-batch quality.
As a multimodal polymer, BorPure MB5568 has a flow equal to that of benchmark monomodal MFR 2 HDPE resin. The advantage of the material is also evident in its enhanced ESCR performance, giving a 50% improvement on the already outstanding ESCR of its predecessor BorPure MB6561.