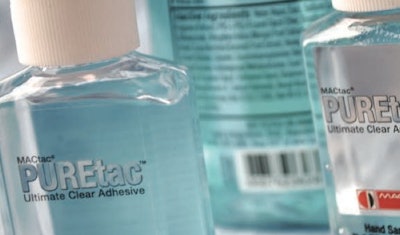 The adhesive is suitable for application to high-density polyethylene (HDPE) surfaces, such as juice and water bottles, oil bottles, detergent, and other household cleaner product containers.
Offering unique adhesive, MACtac PUREtac CL216 features:
• Aggressiveness to HDPE, LDPE and PET
• Exceptional clarity
• Improved non-water whitening
• Outstanding initial tack
• Direct food contact compliance
• Tamper evidenence

MACtac PUREtac CL216 is currently available on a 2.0-mil clear, 2.3-mil white and 2.0-mil chrome, top coated, biaxially oriented polypropylene (BOPP) with 1.0-mil and 1.2-mil PET liners.
Polyester (PET) liners are commonly used in specialty applications as well as in no-label-look, high-volume prime label applications, such as food, beverage and personal care products. PET liners offer die-cut capabilities, smaller roll diameters, better adhesive appearance that leads to flawless application of the label on brand owners' containers, higher productivity and the potential for recyclability. MACtac has successfully tested application speeds up to 1,000 ft./ min.
Companies in this article