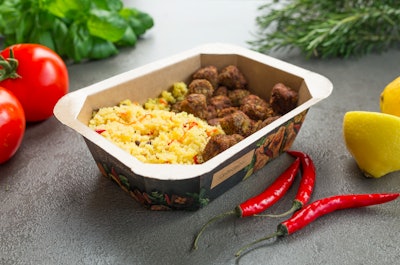 Jospak was founded in 2014 to develop and commercialize a new packaging solution for the food industry. The company's innovation is a high-barrier fiber-based tray suitable for diverse food products which are currently packed in plastic.
"Our innovation is based on the use of renewable and recyclable fiber-based material that is a sustainable alternative for fossil-based solutions. Jospak tray contains 85% less plastic than a regular plastic alternative,"saysTarja Heikkilä, Managing Director of Jospak.
The tray consists of a fiber-based tray and a separate multi-layer barrier film. The tray is hermetically sealed with lidding film, which makes the tray suitable for modified atmosphere packaging (MAP). After use, the consumer can peel away the inner film liner and dispose the materials in the dedicated waste streams or recycle as such.
Jospak® tray comes in one form in three size variants providing common volumes for different food products and ready-made meal portions. Jospak's fiber-based food tray provides a large printable surface which enables better means for brand and product messaging, digitalization, standing out from the competition, and shelf visibility. It also helps in avoiding the use of the additional stickers and paperboard sleeves and therefore reduces packaging materials and related costs overall.
"We have recognized the sustainable trends both in the food and in the packaging industry and want to be a part of the circular economy. Our vision is that Jospak tray is the preferred packaging for sustainable food industry enhancing the customer brand recognition and helping to reduce food and material waste," Heikkilä says.
The company is in the pilot phase with the product, developing the technical functionalities to match the market-dominating plastic trays, and identifying most suitable food product categories for a commercial introduction. Jospak has made significant investments over several years in developing the product and the production technology.