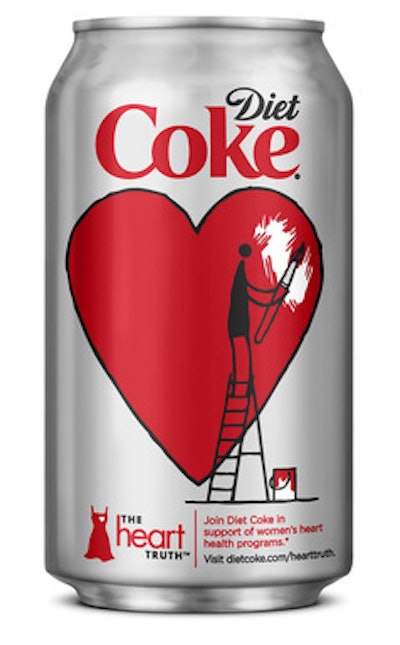 This year marks the fifth year Diet Coke will play an active role in The Heart Truth® campaign. Diet Coke is taking its efforts online, on packaging, and on the runway to call attention to women's heart health educational programs.
Noting that "showing a little heart" never goes out of style, actress Minka Kelly and fashion designer Diane von Furstenberg are teaming up with Diet Coke and the National Heart, Lung, and Blood Institute's (NHLBI) The Heart Truth® campaign to raise awareness of women's heart health educational programs. Five Diet Coke fans joined these women for the Red Dress Collection Fashion Show on February 8 to kickoff New York Fashion Week.
Diane von Furstenberg created a limited-edition collection of Diet Coke aluminum bottles featuring her iconic prints. The bottles will be sold in select Diane von Furstenberg stores in New York and on DVF.com during the month of February. Proceeds from the bottle sales will benefit the Foundation for the National Institutes of Health (FNIH), in support of The Heart Truth and women's heart health research and educational programs.
Throughout the month of February, Diet Coke drinkers also will be treated to special packaging featuring the now familiar stick figure painting a large, red heart. Additionally, more than six billion packages of Diet Coke will feature The Heart Truth logo throughout the year.
"For five years, Diet Coke has been a passionate supporter of The Heart Truth and its efforts to raise awareness about the importance of heart health," said William White, brand director, Diet Coke North America. "While we've shared this vital message with millions of people through our partnership with the NHLBI, we'll reach even more this year with creative online programs, in-store activations, and eye-catching packaging."
A press release on this subject noted that through successful heart health educational programs and with the support of scores of people dedicated to the cause, including Diet Coke fans, awareness of heart disease among women has nearly doubled in the last 12 years. More than half (54%) of women recognize that heart disease is the leading cause of death for women in the United States, up from 30% in 1997.