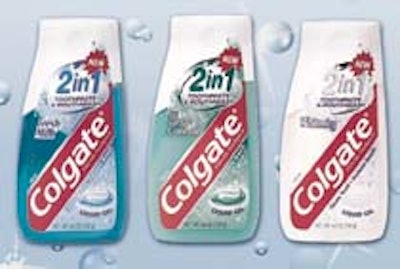 Injection/stretch blow-molded of clear polyethylene terephthalate by an undisclosed supplier, the 2in1 bottle holds 4.6 oz of the liquid gel. According to New York-based CP, "The bottle is designed to fit perfectly in the hand with an easy-to-use cap that flips open with one easy motion." Also from an undisclosed supplier, the white, flip-top polypropylene closure dispenses the liquid gel onto the user's toothbrush. As the consumer brushes, the gel is said to make its way between teeth and into hard-to-reach places, providing both cavity protection and fresh breath at home or on the go.
Convenient because of its portability and ability to stand upright in a medicine cabinet, the 2in1 bottle was designed by the CP Global Packaging Group in Europe. Each bottle sports a clear, pressure-sensitive PE label that's printed offset in four colors and foil hot stamped.
While CP declines to specify vendors, the company does say that feedback thus far has been positive. Available in Fresh Mint, Tartar Control, and Whitening varieties, Colgate 2in1 retails for approximately $2.99 in food, drug and mass merchandise stores nationwide.