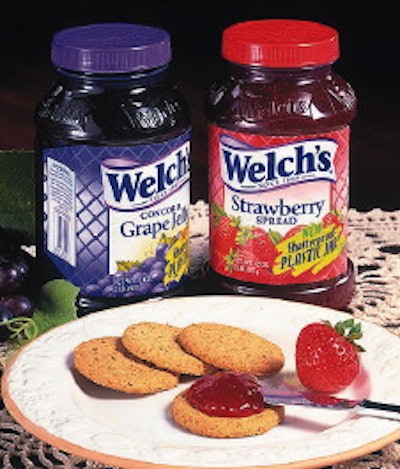 Though Welch isn't saying why a plastic jar is appealing, it's undoubtedly for the same reasons it appeals to other food marketers who have made or are contemplating a glass-to-plastic switch: light weight and shatter resistance.
Container maker Graham Packaging (York, PA) claims the container is significant because the 32-oz size is Welch's top seller. The other notable jam and jelly marketer to introduce a plastic jar is J.M. Smucker of Orville, OH (see Packaging World, Nov. '98, p. 4, or packworld.com/go/smucker). That container, however, was a large 3-lb size aimed at club stores. The Welch jar goes to supermarkets.
The paper label on the jar wraps around the front and into the molded-in hand grip on each side. Doubling as vacuum panels, the grips add sidewall strength to prevent collapse when internal vacuum is caused as the hot jam cools. Fill temperatures are above 175°F.
The 45g container's shoulder is embossed with Welch's name along with the company's famil-iar fruit-basket logo. Kerr/Sun-coast (Lancaster, PA) supplies the 63-mm closure. Injection-molded of polypropylene, the linerless closure incorporates a foil membrane that is induction-sealed to the container after closures are applied.
Companies in this article