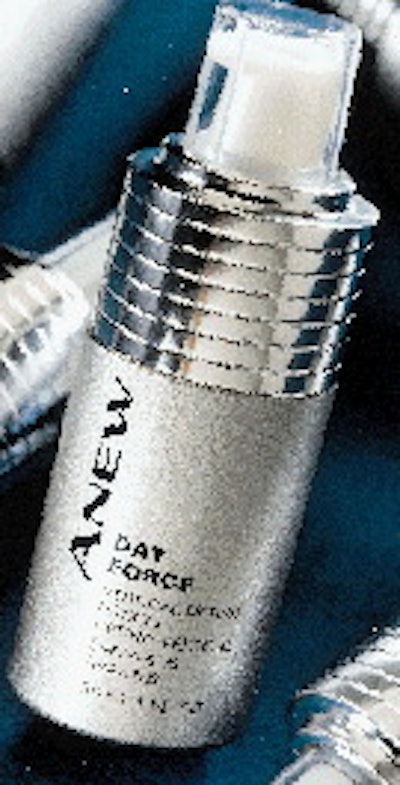 But it wanted a different look, and it also wanted an economical container. Both objectives were achieved by selecting a bottle injection blow-molded of polyethylene terephthalate by algroup wheaton (Millville, NJ).
Ruth Hupprich, senior packaging engineer at Avon, doesn't quantify the cost savings gained by opting for PET over glass. What she does say is that the superior ink adhesion on the PET container compared to glass was appealing. The PET bottle is first sprayed with a silver ink and then screen-printed with black lettering by Hanes Erie (Erie, PA).
Marketers at Avon wanted to be sure that if plastic was indeed the container material selected for Anew Day Force, the container would still be of high quality and would have the feel and weight of glass. A small, heavy-walled PET container was established as the goal, and blow molder algroup wheaton claims it was able to reach that goal by specifying an Eastapak(TM) polymer from Eastman Chemical Co. (Kingsport, TN). According to an al- group wheaton spokesman, the Eastapak resin provides ease of processing that results in a consistently uniform package.
The bottle has a 13/8"-high aluminum collar that friction-fits onto the bottle's pump. A clear overcap, which friction-fits over the pump, is injection-molded of styrene-butadiene copolymer by Emson Inc. (Stratford, CT).
Available through Avon direct sales representatives since September, Anew Day Force sells for $20.
Companies in this article