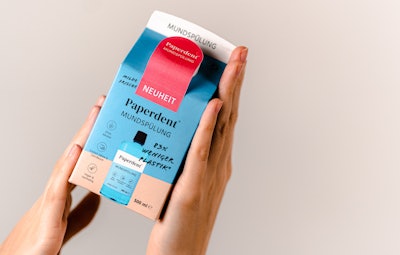 Dedicated to making "everything" that helps consumers live more sustainably in their homes, including sustainable personal care and household and cleaning products, German company LUORO has a special place in its heart, and in its product portfolio, for oral care products. The company's first product, introduced in 2019 on Germany's version of Shark Tank, was The WingBrush, an interdental brush with refillable heads.
Now, with its Paperdent line, LUORO is taking aim at plastic packaging in the oral care category. "Plastic waste is one of the main threats to our nature and wildlife, and especially in dental care, where an extremely large number of products made of single-use plastic are still being manufactured and used," says Alexander Kurth, LUORO's head of communications. "We want to break this trend and show that alternative materials can be used to make products that are at least as good and won't outlive us by several hundred years."
---
---
In June, LUORO introduced a new alcohol-free, vegan mouthwash product under the Paperdent line in packaging made from, you guessed it, paper. The mouthwash, in Mild Fresh and Mild Herb flavors, comes in a fully recyclable, 500-mL carton, the D-Pak from Elopak. According to Patrick Verhelst, chief marketing officer for Elopak, the D-Pak reduces the overall plastic content used by Paperdent in its mouthwash packaging by up to 80% when compared with traditional rigid plastic mouthwash bottles.
Elopak's D-Pak paper-based gabletop carton has been around since the 1990s and is designed specifically for non-food products. The carton uses sustainably sourced paperboard and is lined with a bio-based plastic made from tall oil, a liquid obtained as a byproduct from pulp and paper manufacturing.
"The tall oil-based feedstock allows Elopak to create cartons entirely made from wood," says Verhelst. "The wood used to create tall oil is sourced from sustainably managed forests, therefore ensuring the carton is fully renewable, contributing to the circular economy."
Paperdent's use of the D-Pak marks the first time this package has been used for mouthwash. According to Kurth, the biggest challenge related to using the gabletop carton is making sure the consumer understands what the product is. "Consumers have so far been used to using mouthwash exclusively in plastic bottles," he says. "Most customers know paper composite cartons from milk, which is why we have to clearly differentiate ourselves here. That's why we decided to depict a classic mouthwash bottle on the front of the packaging design to enable easy identification on the shelf."
---
---
The Paperdent product is also among the first to be filled at Elopak's new full-service facility in Terneuzen, The Netherlands. The facility began operation in Q2-23 and provides turnkey services that include the supply of preprinted blanks and closures, packaging on a dedicated, fit-for-purpose filler, and both pre- and aftermarket launch products. "This enables a partnership with customers across all stages of a product, from ideation to commercial launch in large or small scale," says Verhelst.
LUORO's Paperdent mouthwash is available for €4,99 (approximately $5.40), which Kurth says is "on par with suppliers who do not use sustainable packaging." The product is sold online and at select pharmacies and supermarkets in Germany and Austria. PW
Companies in this article