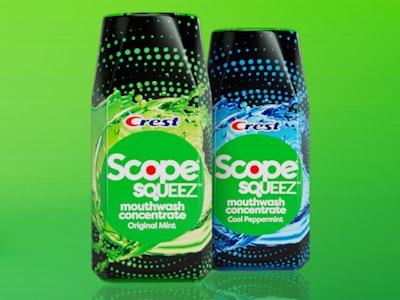 Following in the footsteps of mouthwash brands that include Listerine and smaller, specialty oral care companies, Scope has rolled out a concentrated version of its mouthwash, new Scope Squeez, in a dainty, 50-mL bottle.
For most brands, the decision to introduce a concentrated version of their product is often driven by the resulting sustainability benefits. Concentrates typically need significantly less packaging, which also means lower transportation costs and emissions. Scope is certainly seeing these benefits, with a 70% reduction in packaging versus its regular 1-L bottle. But the benefit Scope is touting with the smaller size is the customization that's possible with a concentrated formula.
---
---
According to Scope, Scope Squeez represents the biggest innovation for the brand in a decade and was designed to address what it says is a core barrier to daily mouthwash use: "Nearly half of consumers looking to enjoy fresh breath often find the strength and freshness of mouthwash to be too much or not quite enough," it reports. "Scope's new mouthwash concentrate provides a customizable experience all in a convenient, palm-sized squeeze bottle with up to 50 uses, that keeps users fresh when and where they need."
Shares Luis Restrepo, senior director North America Oral Care at Procter & Gamble, "As a leading mouthwash brand, Scope knows what consumers want out of their mouthwash, and while it's clear that fresh breath tops the list, they often slip up in making it part of their daily routine. Today's shoppers—Gen Z and young Millennials in particular—are calling for personalized products tailored to them, and Scope is answering that call by delivering a breakthrough product: a convenient mouthwash concentrate that allows you to control the strength, and fits in the palm of your hand. With Scope Squeez, we're inviting users to find their 'Scope Zone,' and unleash a minty-fresh sense of self-expression and confidence to face the world fearlessly."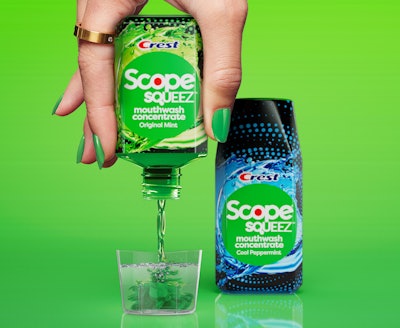 Roughly the same size as the 44-oz Scope travel bottle but with a rectangular rather than a teardrop shape, packaging for Scope Squeez includes a clear PET bottle, a white, child-resistant polypropylene twist cap, and a clear plastic dosing cup marked with a 20-mL fill line near the top. The bottle and cup are held together with a colorfully printed full-body shrink label. A perforation in the label at the top of the bottle allows the consumer to remove the top section to reveal the dosing cup.
Directions for use are simple, says Scope: "just add water and squeez." A less quippy version of the instructions advises consumers to add water to the dosing cup and squeeze the concentrate into the water two or three times to control the intensity of the mouthwash, using up to four squeezes per day.
Scope Squeez in the 50 mL bottle is available in two varieties, Original Mint and Cool Peppermint, in-store and online at retailers nationwide for $7.99. PW
---
---