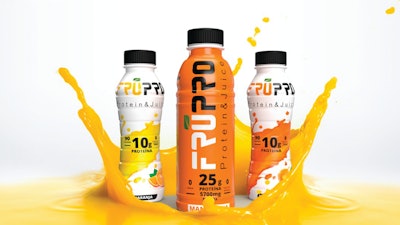 A collaboration between two Colombian companies—Nutrea, a food and beverage company, and Frudelca, a leading juice supplier—has led to the breakthrough Frupro protein juice. The new beverage is the latest in a growing category that blends the benefits of natural juice with protein to appeal to health-conscious consumers.
Flexible and rigid plastic packaging supplier and converter Amcor developed a new hot-fill polyethylene terephthalate (PET) bottle for the project.
"We relied on Amcor as an important partner to deliver an innovative packaging solution that meets the performance test of this new functional beverage," says Alejandor Gaviria, General Manager of Frudelca.
For its part, Amcor says it is a pioneer in the development of PET heat-set technology, which allows beverages to be hot-filled at temperatures up to 185°F (85°C) to ensure product quality and extended shelf life.
Frupro protein juice will be launched this month in Colombia. In their collaboration, both Nutrea and Frudelca are responding to a growing trend among consumers who are moving to healthy beverage options while taking advantage of advancements in hot-fill beverage packaging. According to Euromonitor, the category is expected to grow by nearly double the pace of other segments.
The lightweight, recyclable bottle not only preserves the natural juice and protein ingredients, but also delivers a clean look and strong shelf appeal that consumers want, the company says. Amcor supplies 300-ml and 440-ml bottles for Frupro's orange juice product. Nutrea and Frudelca plan to jointly launch other fruit flavors down the road.
In the hot-fill arena, Amcor says it provides know-how, advanced preform technology, high-quality containers, and strong relationships with co-packers. PET, the company says, is lightweight, shatterproof, recloseable, resealable, reusable and infinitely recyclable. In addition, PET bottles often have the lowest carbon footprint and their production results in up to 70% less greenhouse gas emissions than other packaging materials, according to Amcor's Asset Lifecycle Analysis. In the midst of today's hygiene concerns, capped and sealed PET bottles keep beverages protected from pathogens like viruses and bacteria. They are also sealed to combat contamination and re-sealable for ongoing protection.
Glanbia, a leading protein supplier, was a key collaborator in the product development effort. - PW
Companies in this article