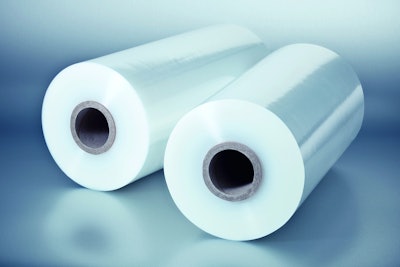 Zummit began operations in the summer of 2018 in an 85,000 sq-ft facility with an emphasis on promoting a PE stretch film the company claims is biodegradable.
With two cast film lines already installed—and room for two more in the future—Zummit Plastics Inc. of Phoenix sees the current climate as a major business opportunity.
The company's Bio-Zummit line of both hand wrap and machine film account for about 40% of sales currently, said Adrian Peredo, vice president of sales at Zummit. Conventional stretch film accounts for the remaining 60%. But Zummit expects biodegradable film will eventually take over full production.
Zummit claims its film will biodegrade under the right conditions in three to five years in a landfill setting. And that's important as companies look for different packaging options, he said.
Zummit uses the P-Life-brand additive made to create its films.
"We add that to the blend, and we can control the dosage level. It will work with a 1 percent or a 2 percent of the masterbatch," he said. "It will not affect any type of performance of the film. ... The only thing it will do is it will break the chain of the polymer sooner in a time frame of three to five years."
Zummit has spent about $30 million to retrofit a former warehouse space to create its film production operations.
Not only does the company see growth in the demand for biodegradable films, but also in stretch film.
"We see potential growth of the stretch business every year of about 5 percent. We see that biodegradable options are the new trend of the industry. The national accounts, big companies, they are looking to get sustainable packaging," Peredo said.
While the company itself is only about a year old, it has assembled employees with years of experience in the film business, Peredo said. The company is also looking toward geographic expansion when it purchased a building in Columbus, GA, for the development of a future manufacturing site.
Zummit selected Phoenix for its first location for a variety of reasons, including its business-friendly climate, lower electricity rates and proximity to California, Peredo said.
Zummit currently serves the entire country from its Phoenix location, which has annual production capacity of 60 million lb, he said. The company employs about 50.

Companies in this article