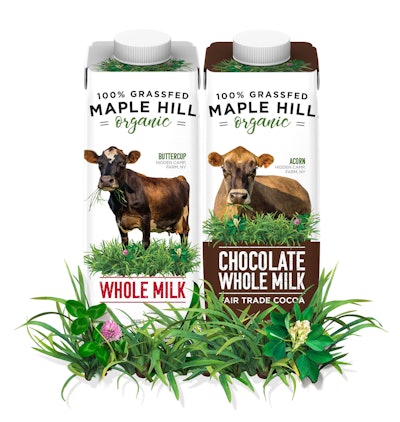 Maple Hill Creamery of Kinderhook, NY, and SIG worked together to bring this innovative offering to the marketplace. Maple Hill's 100% grass-fed organic whole milk and chocolate milk made with Fair Trade Cocoa are now available in 8-oz combismile cartons from SIG.
Celebrating 10 years as America's original 100% grass-fed organic dairy, Maple Hill raises happy, healthy cows in stress-free environments on small family farms. The brand continues to develop new & exciting products, providing consumers additional ways to enjoy the healthiest, highest quality dairy on the market. The new 8-oz cartons of Maple Hill milk provide a convenient, on-the-go option in a shelf-stable package that does not need to be refrigerated until after it is opened.
Staying true to Maple Hill's values, the combismile carton developed by SIG has minimal impact on the environment. The combismile cartons, which are mainly made from wood, a renewable raw material, are all approved to bear the label of the FSCTM(Forest Stewardship CouncilTM). This confirms that the wood fibers used to manufacture the raw paperboard come from responsibly managed, FSC-certified and other controlled sources. Instead of a straw, the pack features are-closable cap with a single-action, leak-proof, and tamper evident spout. After use, the packages are 100% recyclable, says SIG.
Companies in this article