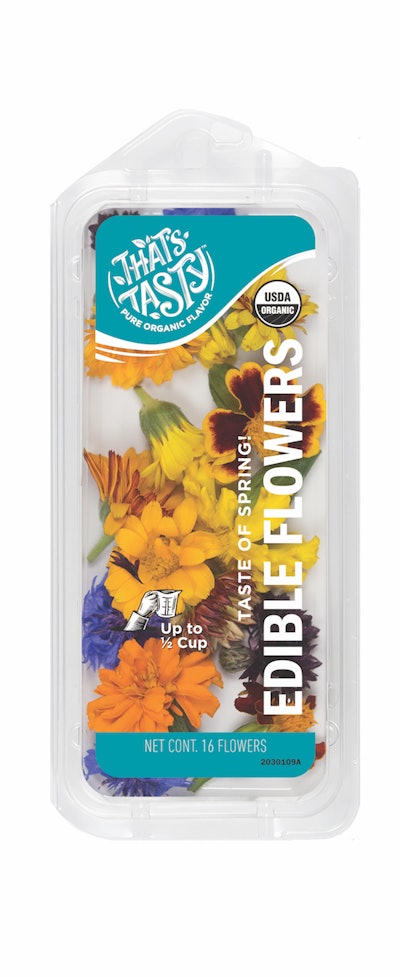 There's nothing like truly seeing what you're buying. Thanks to clear packaging and minimalistic—yet stunning—labels, that's precisely what consumers get from Shenandoah Growers' line of That's Tasty organic herbs.
The "tasty" moniker clearly applies not only to the herbs, which include edible flowers, but also to the thermoformed RPET clamshell containers from Royal Interpack North America and labels from Taylor Made Labels, a Resource Label Group company. Clamshells receive both front and back labels, which are flexo-printed in three colors.
A key benefit of the package comes from the anti-fog properties imparted via an inner clamshell layer that forces any residual moisture in the packaging to run down into the absorbent padding behind the herbs, which lends a fresher on-shelf appearance.
"The actual solution that gives our product anti-fog properties is proprietary, but it reduces the condensation inside the clamshell and complies with our high organic and food safety standards," points out Nadine Williams, Director of Marketing for Rockingham, VA-based Shenandoah Growers. "This allows the consumer to clearly see inside the package before they purchase. We also enclose a freshness insert inside the clamshell. Based on external lab testing, this extends the life of our product, giving the store and consumer more time to sell and use the product."
The freshness benefit is especially significant, says the company, since herbs are perhaps the most perishable produce. With that in mind, Williams explains that Shenandoah Growers hand-harvests and hand-packs its products. She says, "Herbs are easily bruised and damaged by machinery and require a special touch to ensure the best quality."
'Smaller' size matters
Another important benefit comes from a 20% reduction in package width that allows retailers to put more product in a wider variety on store shelves. Williams explains that the company's primary fresh-cut sizes are 0.5-, 1.5-, and 3-oz. "The industry standard was a 0.75-ounce clamshell. This dated back to the beginning of the product category. Anecdotally, we knew that consumers were getting more product than they needed. In 2017, we performed a category market assessment and found that the number one category barrier for consumers was having too much product that they couldn't use before it would perish.
"As the largest producer of culinary herbs in the U.S., we knew we had to help change the market and give consumers a better option. By giving consumers the right amount of product in the package, they can now use the full container in a week, reducing the barrier of purchase the next time while also reducing food waste."
Reducing product waste and using recycled content in its packaging fits in well with the company's "Foods to Believe In™" tagline. Says Williams, "Shenandoah Growers believe that in order to create a truly sustainable growing environment, we have to bring nature indoors by mimicking the natural plant process. We accomplish this by utilizing bioponics, which means we use a soil-based growing method in an indoor, fully controlled environment. Our indoor BioFarms™ use LED lights, a closed-loop water system, and living nitrogen-infused soil to grow strong, healthy, organic products."
Shenandoah runs 16 operations in the U.S., with plans to open two more facilities in the first quarter of 2019. Beyond its full line of organic culinary herbs, organic leafy greens and organic microgreens, it will launch a new line of Organic Stir-In Herb Purees early this year. The That's Tasty brand is distributed in more than 23,000 grocery stores across the U.S., including Amazon Fresh, Whole Foods, and Wegmans.
Companies in this article