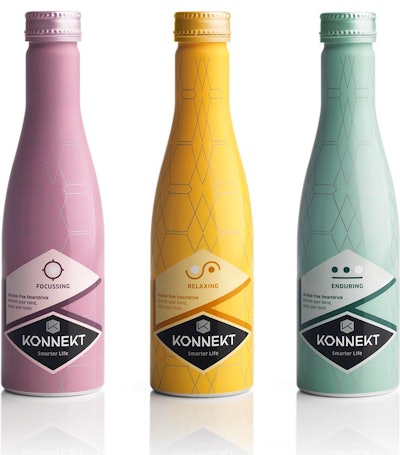 The Konnekt Smartdrinks brand has already made a powerful impact on the growing health drinks sector in Europe with its application of the body's natural energy and amino acid substances to replace sugar, sweeteners, and additives. The inclusion of the eye-catching 250-mL screw-top shaped aluminum bottle, from Ardagh Group, for three flavors conveys the brand's emphasis on innovation, energy, and a healthy lifestyle. In the Netherlands, the simple yet striking design on the bottles has already been nominated for the 2018 NL Packaging Awards.
Of equal importance to the appeal of the bottle's shape was its status as a permanent and infinitely recyclable material.
"The shaped aluminum bottle has proved to be the ideal solution for expanding our brand," said James Russell Reid, founder of Konnekt Smartdrinks. "Our team has worked hard to create a unique beverage that meets a growing consumer demand to enhance performance, alertness, and energy levels through natural ingredients, and the choice of the right packaging was important."
The aluminum bottles guarantee shelf differentiation and can be filled on a standard filling line without speeds loss. Standard screw caps are used. The reclosable bottles are manufactured at Ardagh's specialist aluminum plant in in Beaurepaire, France. The product is available throughout Europe, the Middle East, and India.
Companies in this article