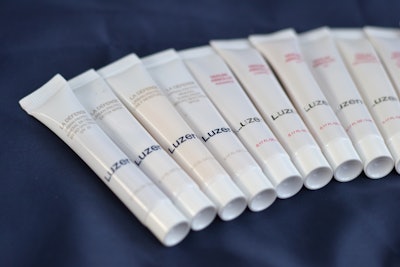 Luzern Laboratories of Norwalk, CT, offers luxury cosmeceutical products formulated using the finest, sustainably-harvested, organic Swiss extracts and active ingredients. The company was founded in 1996 by brother and sister Ralph Herbert and Jennifer Herbert-Coste, who—inspired by their father's passion for nutraceuticals, healthy foods, and organic ingredients—set out to develop products with clean preservative systems and concentrated additives.
The Luzern brand comprises 24 SKUs, including cleansers, moisturizers, repairing serums, exfoliating face masks, toners, and sun protection products made that use cold-processed formulas made from high-efficacy actives from the pristine Valais region of Switzerland. Absent from these formulas are additives, synthetics, and chemical preservatives.
"Consumers can have amazing daily beauty care and avoid chemicals," explains Luzern Director of Supply Chain Fred Rodriguez. "We are proud that all of our highly effective products help make clean ingredients accessible to everyone."
Luzern's products are sold on its website, at various spas throughout the U.S., Australia, and Canada, on select cruise lines, and on several e-commerce sites. As part of its efforts to drive trials and future sales of its skincare products through current and prospective customers, the company distributes sample sizes at tradeshows and uses them for cross-promotional programs.
In summer 2016, Luzern approached contract packager and packaging solutions provider Sonic Packaging Industries Inc. for help in developing new sample-size packaging that would mirror the visual and functional features of its full-size versions. Says Sonic Founder and CEO Howard Thau, "Luzern wanted an upscale presentation that would differentiate them in the market."
In addition, having worked in the past with multiple third-party suppliers for sourcing and filling of sample packaging, Luzern also wanted a fully turnkey solution from a company that could handle it all.
Over the course of the next year, Sonic designed and sourced custom, sample-size tubes and pouches, tested each of the 24 formulations for packaging and filling compatibility, and completed an initial production run of 3,000 units for each SKU.
Mini tube mimics full-size package
Sonic has been in business since 1995, serving medium to large manufacturing and brand marketing corporations from diverse industry backgrounds, including beauty/cosmetics, pharmaceutical, medical device, dental, OTC, and others. The co-packer specializes in single-use and metered-dose delivery systems and can provide custom packaging and filling for a range of products, among them gels, creams, liquids, powders, tablets, and capsules. It can design, develop, and fill both primary and secondary packaging, based on the customer's requirements. Sonic's Westwood, NJ, packaging plant is an FDA-registered cGMP operation that maintains extensive documentation, from production through finished product.
According to Thau, among the factors that made Sonic a perfect fit for Luzern's project were Sonic's reputation for successfully creating turnkey solutions for unique and niche applications, its proximity to Luzern's Connecticut facility, and its track record for quality assurance and speed to market. Luzern was also sold on Sonic's filling capabilities, which Thau says are unique. "Most companies that are filling tubes are not also filling pouches," he explains. "We have the experience and the ability to manage both filling technologies in one location."
Before coming to Sonic, Luzern had been using packets and sachets for its product promotions. To differentiate themselves in a highly competitive market, the company asked Sonic to help them create a sample packaging solution in the 1- to 5-mL size range that would be more in line with its current salable SKUs, in terms of appearance and functionality.
"Mini replicas of the full-size product line reinforce brand identity, increase consumer engagement, and deliver a high-end feel that translates into a top-notch consumer experience," says Max Flashenberg, New Business Development Associate for Sonic. "This makes for more successful product promotion, which in turn helps increase sales and widens the target consumer base."
Sonic's solution was a custom white 5-mL tube with a long, slim shape made from a proprietary five-layer plastic construction that duplicates Luzern's full-size tube packaging. It is printed in two colors, plus special flexo-printed foil enhancements. The tube is packaged in a secondary pouch, made from a multilayer PET/polyethylene/foil sealant material that is printed digitally in three colors. Sonic sources the printed tubes, caps, and pouches from its preferred suppliers.
Explains Flashenberg, the tubes are placed in secondary pouches because they don't have adequate real estate to hold all the relevant product details. "The pouch becomes the billboard for information relating to the product and its use, including directions, ingredients, etc.," he says. "Also, it is rarely done, which makes it a great way to stand out in the crowded cosmeceutical marketplace."
The tubes were also designed with functionality in mind, offering ease-of-use, portability, and convenience, especially for on-the-go users.
Testing 20+ SKUs is a challenge
With the custom tubes in hand, Sonic then obtained samples of each of the 20-plus skincare products in order to perform fill tests, establish stability and compatibility with the packaging, and confirm that each product dispensed properly through the tube orifice. Says Flashenberg, "For each product, Luzern determined the correct amount of product to achieve the end result, after which Sonic confirmed the proper fill height for each SKU and supplied samples of the finished product for Luzern's approval."
As bulk product arrived at Sonic for production runs, the company did micro-testing and cross-referenced and confirmed every SKU as a match to the original sample. "For each of the 20-plus product bulks received, we retained the COA [Certificate of Analysis], MSDS [Material Safety Data Sheet], part number, description, etc.," says Flashenberg. "The part numbers are cross-referenced with the bulk lot number and the packaging lot number for complete supply chain traceability. At the same time, we sent a sample back to the customer to confirm the formula was correct in terms of texture, color, and fragrance."
For the initial run, Sonic produced 3,000 units of each SKU. Proprietary custom tube and pouch filling and sealing equipment was used to efficiently fill and seal the packaging "ensuring consistent quality from start to finish," says Flashenberg. "Sonic systems are designed for maximum flexibility, and built into Sonic's SOPs [standard operating procedures] are designated sections for customization based on specific customer requirements," he adds.
A successful launch and new product line
Once the samples were filled in late 2017, Sonic sent a portion of the production run directly to a trade show where Luzern was exhibiting and shipped the rest to the company's Connecticut distribution center. Says Thau, "Although the program experienced several setbacks due to formulations, with close coordination between the customer, the manufacturer, and the packaging facilities, launching the minis was successful and exceeded both the customer and end-user expectations.
"Unlike more common cosmeceutical promotional packaging, Luzern's new samples are a literal recreation of the full-size product line. By designing fully-branded miniature replicas, Luzern can connect with consumers through added touchpoints, which translates into brand reinforcement and an unparalleled user experience."
The minis have also resulted in a new salable SKU for Luzern. The company is now offering various products in the sample-size format for travel and on-the-go use. The new SKU will be available wherever Luzern is sold.
Companies in this article