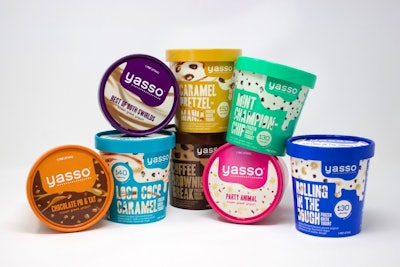 Yasso has introduced its Yasso Pints line of frozen yogurt, which the company says "offers more explosive flavor than those unfulfilling ice cream pretenders, plus a sensible nutrition panel." The new line includes eight flavors and was launched on the company's website in early January 2018; it will be available in retailers nationwide beginning in March 2018.
Packaging for the new pints was created and designed by Fortnight Collective and is all about encouraging people to enjoy something delicious with complete abandon, says Fortnight. "This indulgent attitude is captured in the design of the eight flavors: Big and bold typography and ingredient imagery allow both the brand voice and appetite appeal to take center stage," says the design firm. "Each pint plays on the traditional flavor name by embodying the company's spirited outlook. The best part of the packaging is the charming messaging on the back of each pint."
In addition, the playful design is carried onto the pint's heat-seal lid. Along with the launch of Yasso, company founders also created a new sports initiative, the Game On! Foundation, "dedicated to cultivating the inner health rebel in everyone." With this spirit in mind, Fortnight Collective designed each pint's lid to celebrate and generate awareness for the Game On! Foundation.